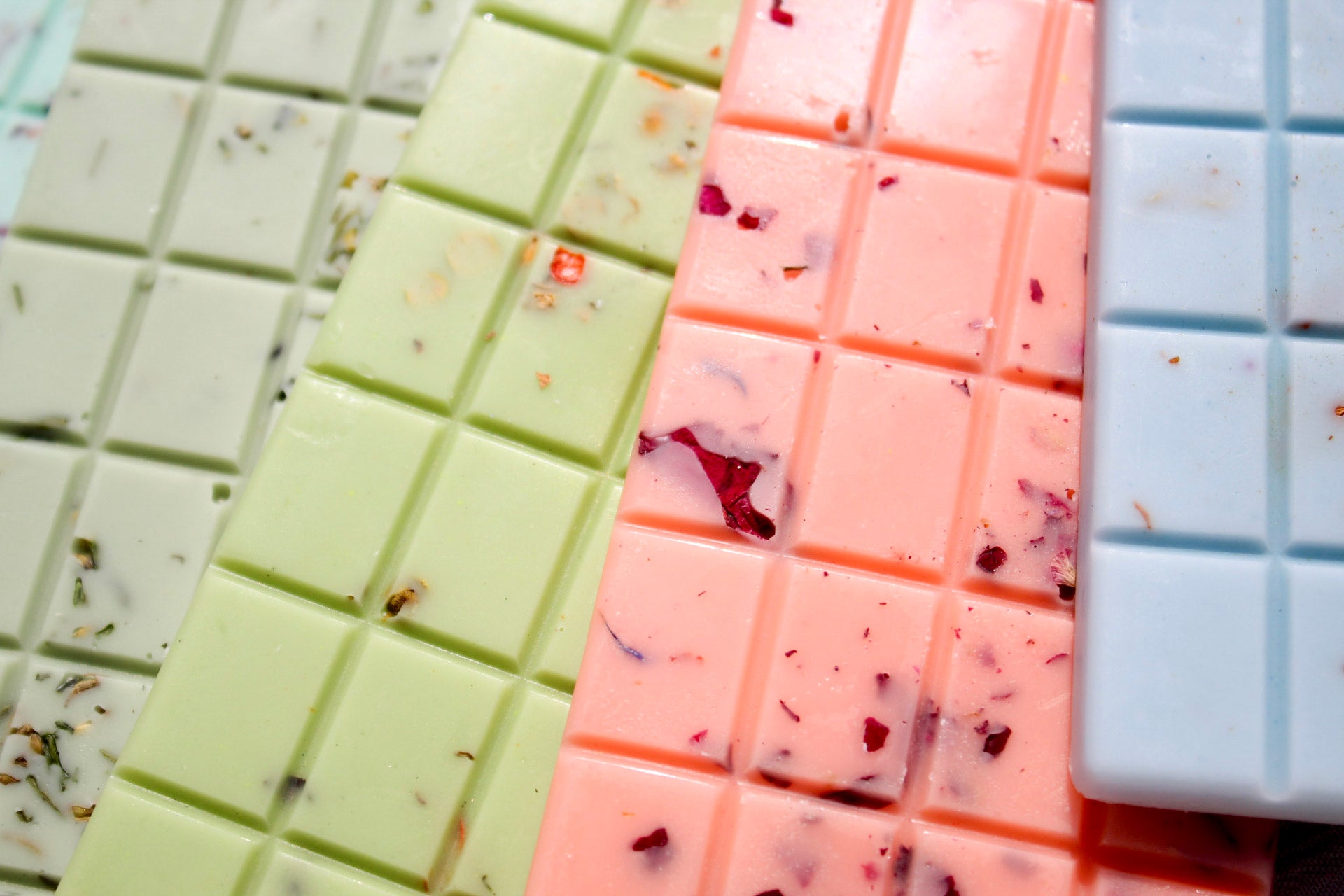 A WAX MELT
$5.00
Regular price
$9.00
Subscription • Save
Here's where we have fun, A Wax Melt. Hand-poured and made in LA, our wax melts are for those who aren't too fond of candles but enjoy a good-smelling home. With new fragrance options added often, our melts offer a variety of ambiance. Each bar measures 6.3 x 3.1 x 0.4 inches and weighs approximately 4 ounces. Each melt bar comes in a resealable Polypropylene bag that we highly suggest you use to store your melts. Some of our bars also include locally dried flowers such as Lavender, Rose Buds, Rose Petals, Marigold, Chamomile, and Mica. 

Mica is a natural stone mineral with shiny flakes. Mica powders are a sparkly, very fine glitter. They're used to give a metallic or shimmery pearl-like effect. 
Please do not get attached to the aesthetic of your bar as each pour will look different.
A WAX MELT
$5.00
Regular price
$9.00
Wax Melts
After sampling just about all the wax melts, I stopped buying other melts. They qty is great and The wax melts have a long lasting scent that stays in the air after burning. The quality is top notch and you can burn the same melt again after 1st use. I'm hooked!!!
I need these melts, like I need my Morning Coffee
I have this wax melting in my house every single day. The scents are incredible and always leave my house smelling divine but not over powering. People who come by always comment on how lovely my house smells. I ran out for a few days between shipments and picked up a melt from another brand and they didn't even come close to comparing. I know have a stockpile to make sure that doesn't happen again. Additionally I love that these are hand poured and that I am supporting a small, female owned business with my dollar. These wax melts are EVERYTHING- they bring a little joy to my day, every day.
Perfection
I've tried the majority of scents and they smell sooo good. The melts are top notch quality and last long.
Smells divine! Saving it for when I move to my new home!
You won't regret them!
After discovering PB last holiday season, I kept coming back to look at the wax melts. I have 3 furry friends that make candle burning less relaxing than I'd like, so I was intrigued by the wax melts, especially since I knew they'd have the same high quality as the candles. I finally got some and they are amazing! The fragrance lasts a long time and I love the add-ins like the glitter! I'd highly recommend these!