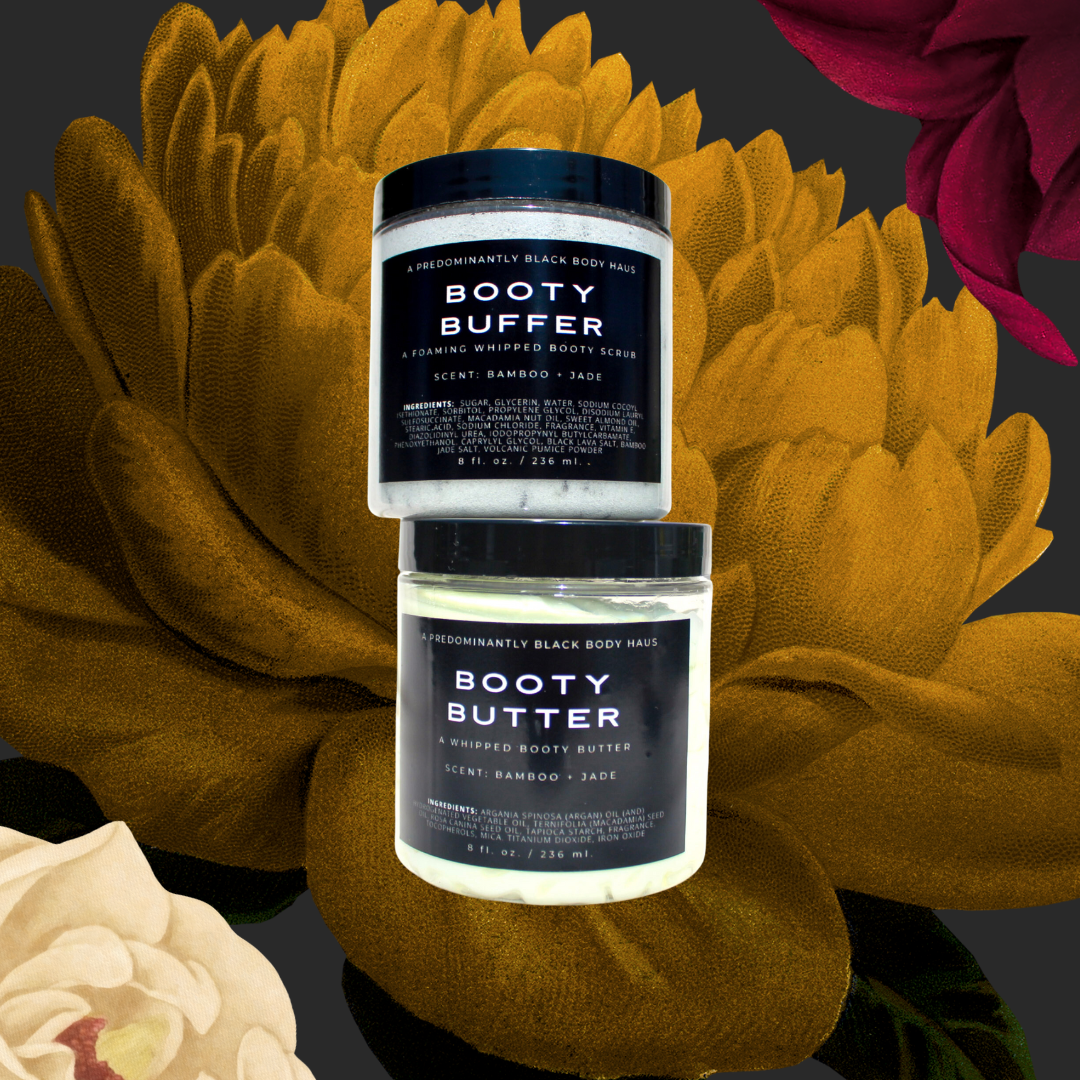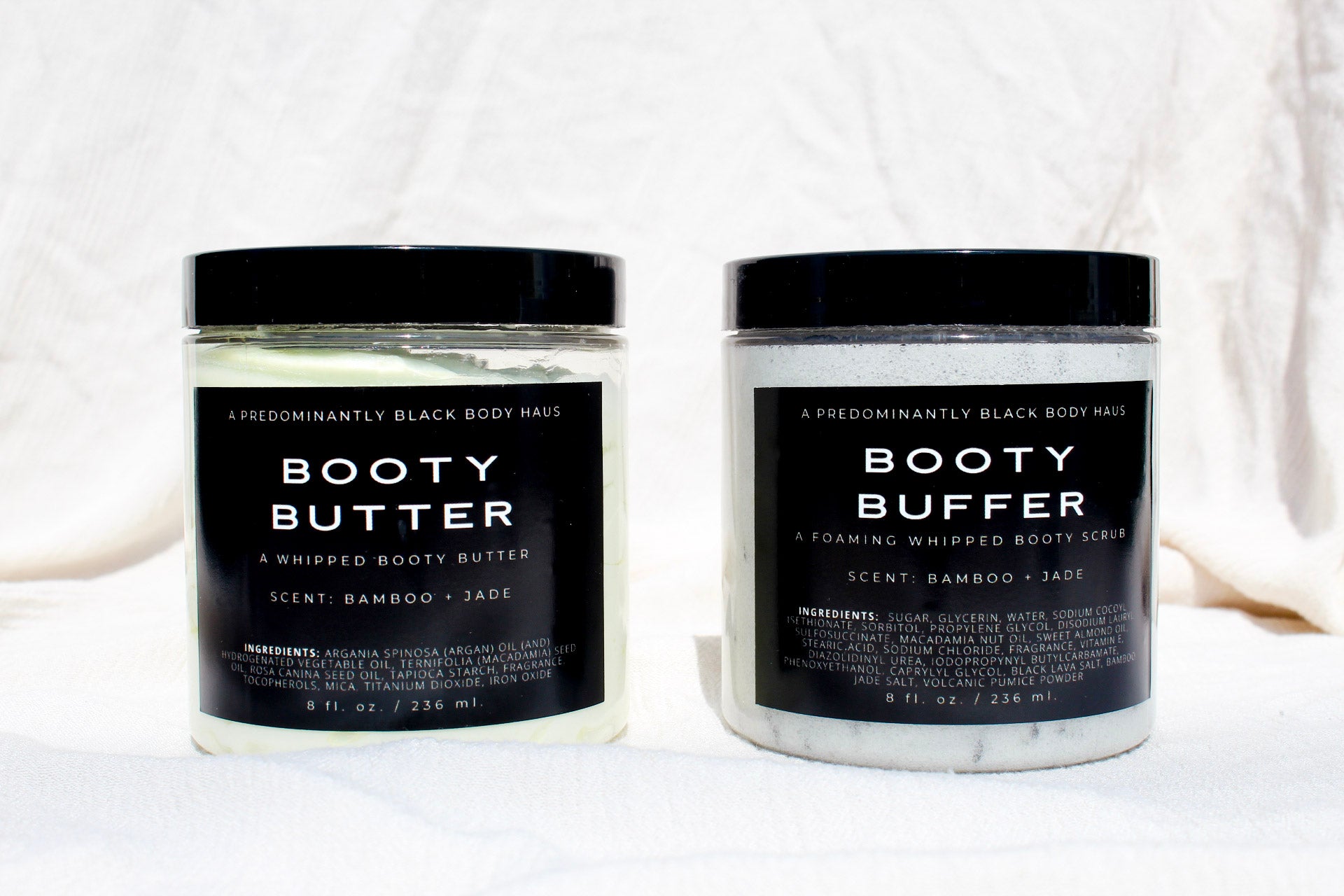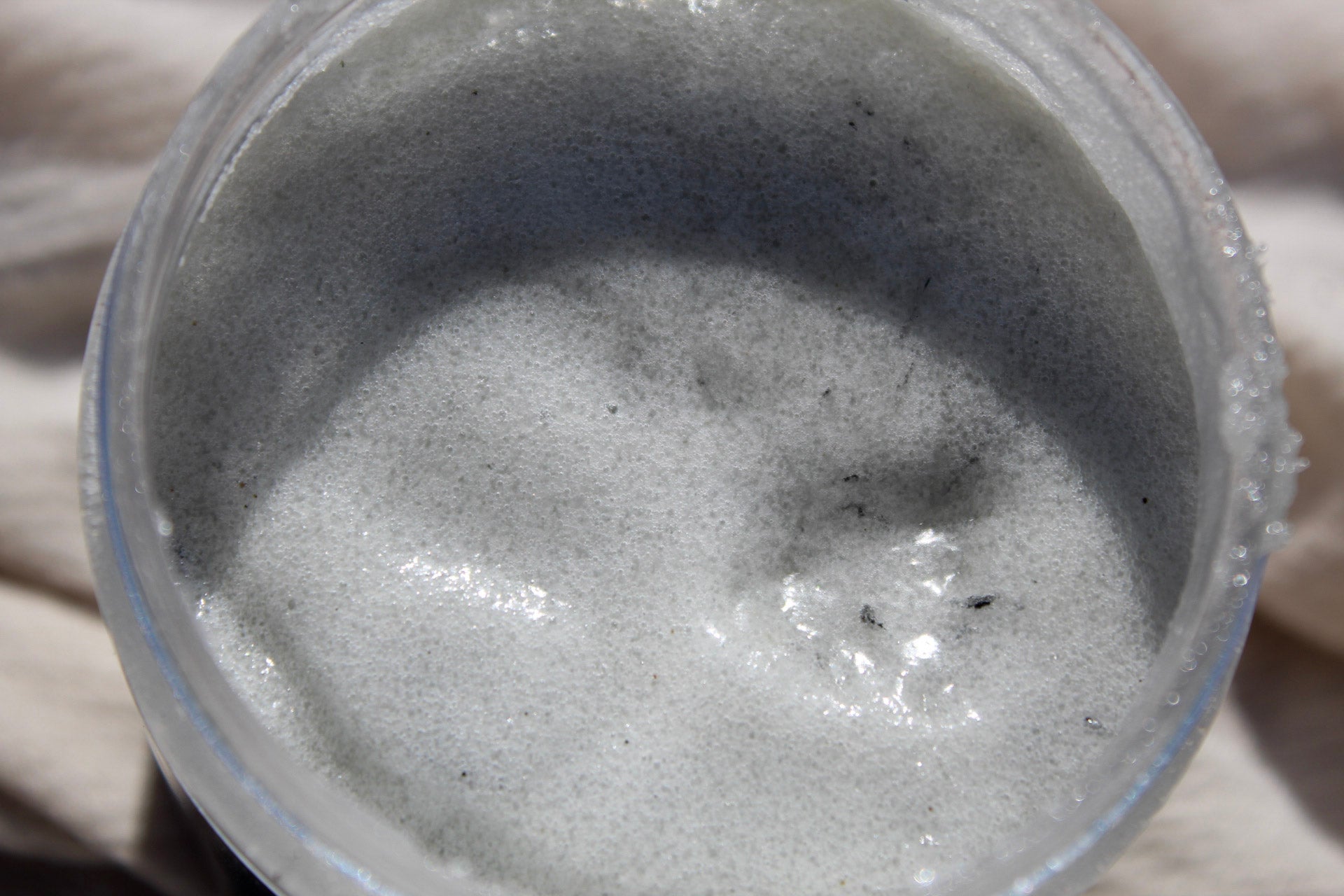 Description
ABOUT
CANDLE CARE
BODY HAUS
A BOOTY DUO
SCENT: BAMBOO + JADE
It's always your beauty but this summer .... it's about your BOOTY!
A BOOTY BUFFER:  This indulgent scrub is specially formulated to exfoliate, nourish, and revitalize, giving you a spa-like experience and get that booty right and tight for its debut this summer.
As you massage it onto your skin, the sugar, bamboo salts, volcanic pumice powder, and black lava salts work their magic, sloughing away dead skin cells, and revealing a fresh, radiant complexion underneath. 
Color: Dark Gray
THE GOOD STUFF:
Volcanic Pumice Powder:

Highly refined, 100% pumice powder forms from volcanic rock and offers rich exfoliating benefits for the skin. This effective powder acts like a sponge as it helps absorb excess oils and dirt.

 Pumice Powder is from volcanic ash is extra fine, giving it very mild exfoliation properties.

Coarse Black Lava Salt: 

Originating from the coast of Hawaii, Black Lava Salt is created when Hawaiian waters perform a reverse osmosis-like process. Coconut Shell Charcoal and White Silver Sea Salt bond, forming a beautifully complex ingredient that helps remove skin impurities, excess oils, acne, and blemishes. Hawaiian Black Salt is packed with essential body minerals like calcium, iodine, magnesium, iron, sodium, and potassium, and is a perfect ingredient for bath bombs and exfoliants. Created gluten-free in the USA without GMO or artificial colors.

Course Bamboo Jade Salt: As an organically grown ingredient with a sweet green tea scent, this salt is made of all-natural Hawaiian Sea Salt, electrolytes, amino acids, antioxidants, essential body minerals, and organically grown Bamboo Leaf Extract. It is well known for treating acne and promoting glowing skin when used in body care products.
Color : Light Green
Scent Note: Sugar, Bamboo, Lime, Vanilla, Musk

Ingredients: Sugar, Glycerin, Water, Sodium Cocoyl Isethionate, Sorbitol, Propylene Glycol, Disodium Lauryl Sulfosuccinate, Macadamia Nut Oil, Sweet Almond Oil, Stearic Acid, Sodium Chloride, Fragrance, Vitamin E, Diazolidinyl Urea, Iodopropynyl Butylcarbamate, Phenoxyethanol, Caprylyl Glycol, Black Lava Salt, Bamboo Jade Salt, Volcanic Pumice Powder
-----------------------------------------------------------------------------------
A BOOTY BUTTER: This light fluffy BOOTY BUTTER feels like a marshmallow dream! Light, Airy, and Moisturizing the best way to top off that booty scrub.
Argan Butter, derived from the kernels of the argan tree (native to Morocco), offers numerous benefits for both skincare and haircare. 

Argan butter is packed with vitamins and antioxidants, including vitamin E, which has potent moisturizing and anti-aging properties. These nourishing components help to improve skin elasticity, reduce the appearance of fine lines and wrinkles, and promote a healthy, youthful complexion.
Macadamia Nut Oil is derived from the nuts of the macadamia tree and has gained popularity for its numerous potential benefits.It has high content of monounsaturated fats in macadamia nut oil makes it an excellent moisturizer for the skin. It is easily absorbed by the skin, leaving it soft and supple. The oil also contains palmitoleic acid, which is naturally found in youthful skin but decreases with age. Applying macadamia nut oil topically can help restore this fatty acid and improve the appearance of aging skin, including reducing the appearance of fine lines and wrinkles.

Ingredients: Argania Spinosa (Argan) Oil (and) Hydrogenated Vegetable Oil, Ternifolia (Macadamia) Hemp Seed Oil, Rosa Canina Seed Oil, Tapioca Starch, Fragrance, Vitamin E, Mica, Titanium Dioxide, 
NO Phthalates
NO Additives
NO Paraffin 
INGREDIENTS: 100% COCO/SOY WAX, COTTON WICK, FRAGRANCE OIL 
 HAND-POURED IN LOS ANGELES IN SMALL BATCHES
Always burn candle within sight.
Keep away from flammables. 
Keep away from children and pets. 
Trim wick to 1/4" before lighting. Best to trim wick each time prior to lighting. 
Keep candle free of any foreign materials including matches and wick trimmings. 
Only burn candle on a level, fire-resistant surface. 
Do not burn candle for more than four hours at a time. 
Stop use when only 1/4" of wax remains.
TEST, TEST, TEST. BEFORE DIVING INTO OUR PRODUCTS
PLEASE BE SURE TO DO A TEST PATCH ON YOUR SKIN TO ENSURE NO REACTIONS OCCUR. ALTHOUGH UNCOMMON, SWITCHING TO NATURAL PRODUCTS CAN CAUSE IRRITATIONS.
BODY HAUS PRODUCTS HAVE NOT BEEN EVALUATED BY THE FOOD AND DRUG ADMINISTRATION. THIS PRODUCT IS NOT INTENDED TO DIAGNOSE, TREAT, CURE OR PREVENT ANY DISEASE.
THE CONSISTENCY OF OUR PRODUCTS MAY CHANGE DUE TO EXTREME HEAT AND OR COLD WEATHER. PB HAS NO CONTROL OVER THE CONDITIONS DURING TRANSIT OR DELIVERY, PLEASE UNDERSTAND THAT WE CANNOT BE RESPONSIBLE FOR MELTED OR FROZEN PRODUCTS.
PRODUCTS MAY APPEAR INCONSISTENT IN COLOR BUT OUR NATURAL PRODUCTS ARE MADE FROM NATURAL INGREDIENTS. OUR HANDMADE PRODUCTS ARE MADE WITH CONSISTENT FORMULAS AND INGREDIENTS.
WATER CHANGES THE CONSISTENCY AND PERFORMANCE OF OUR PRODUCTS PLEASE TRY YOUR BEST NOT TO ADD WATER.