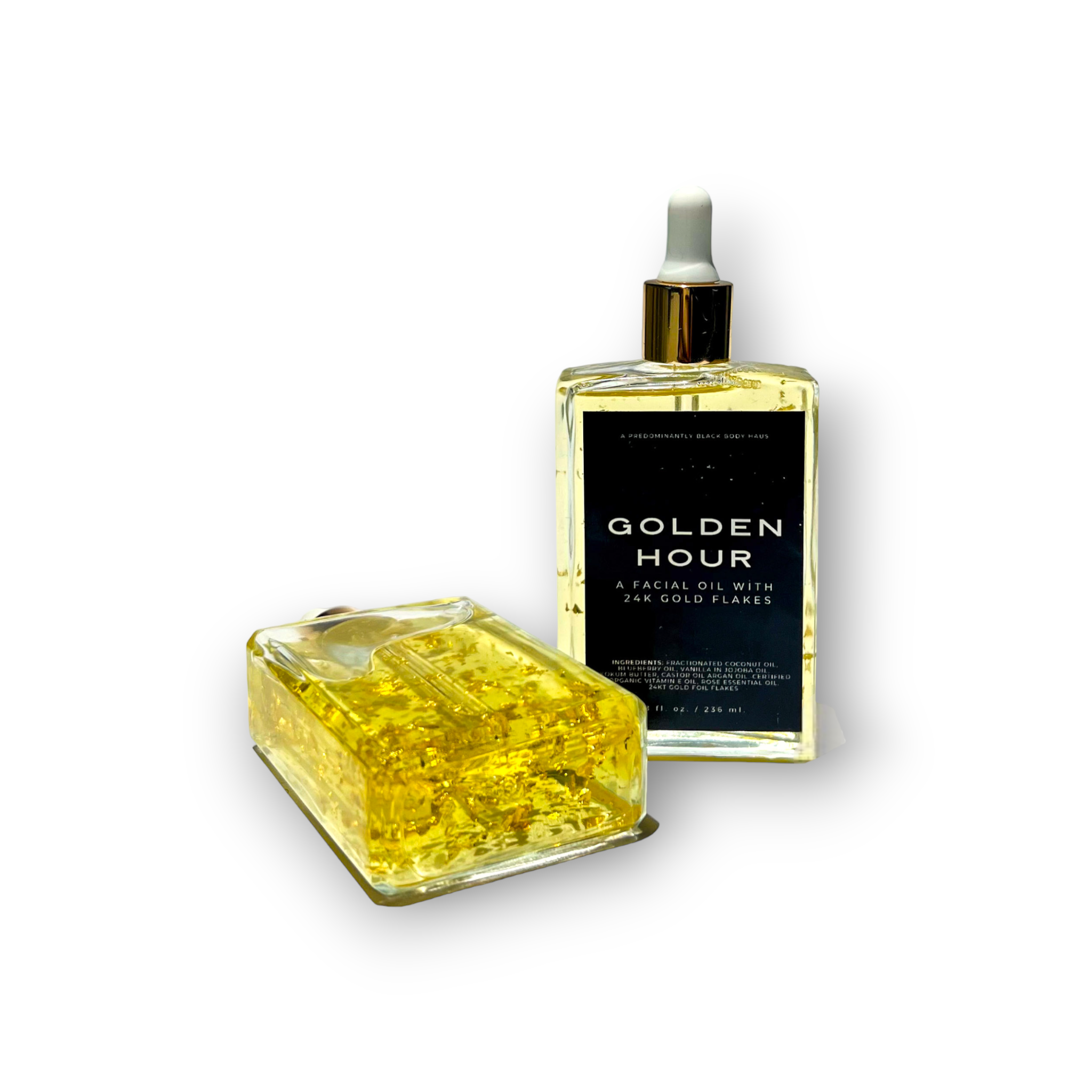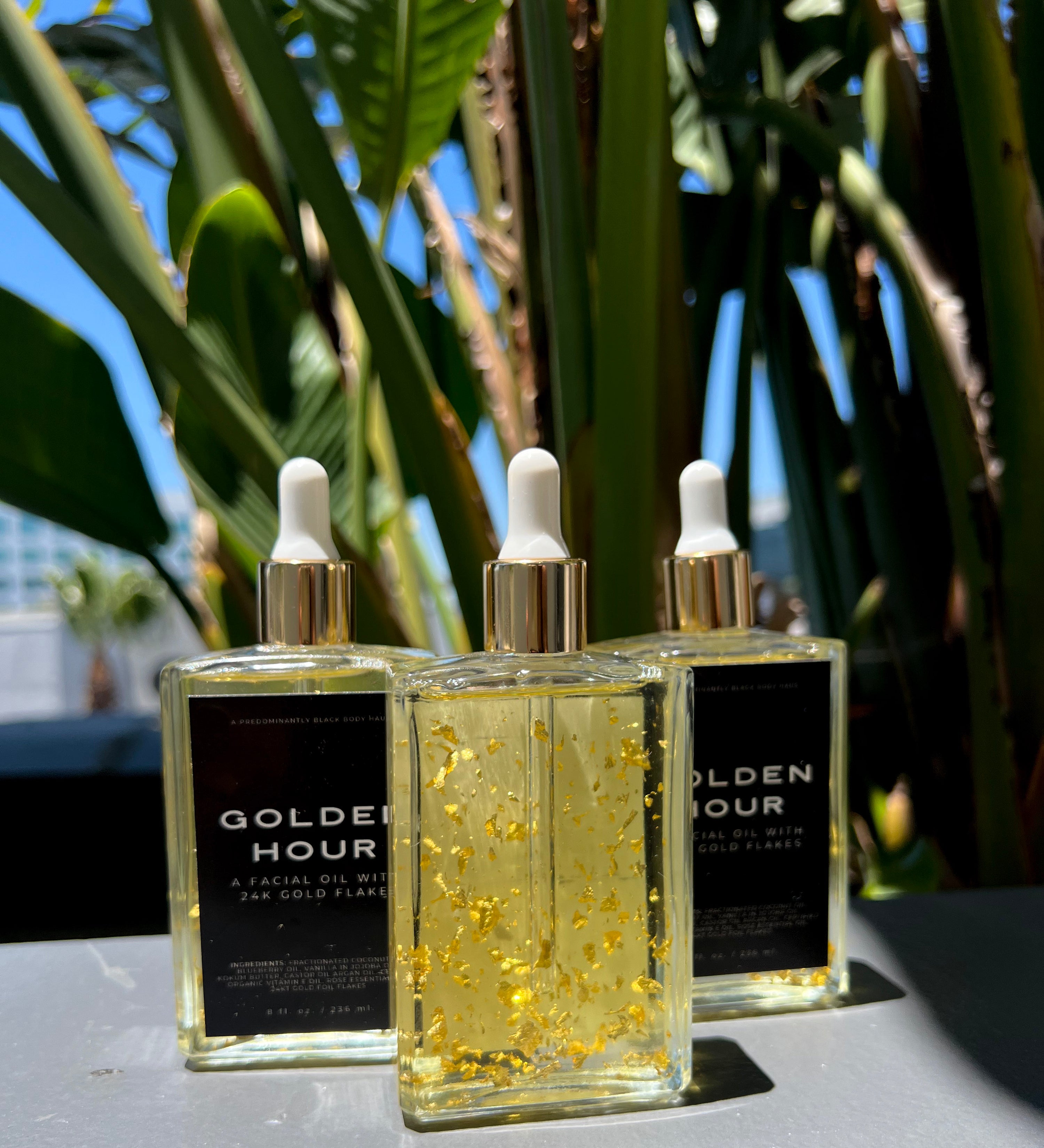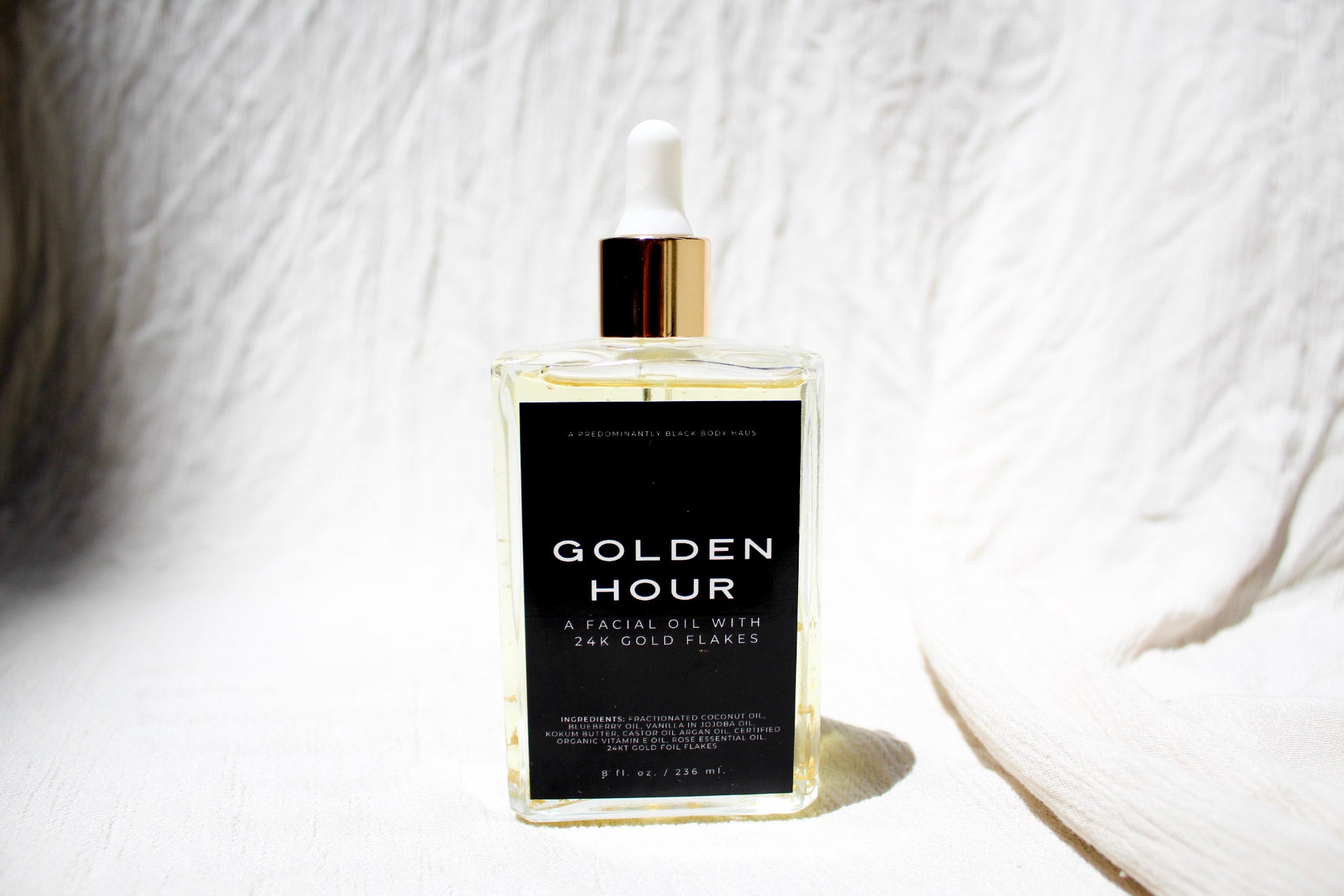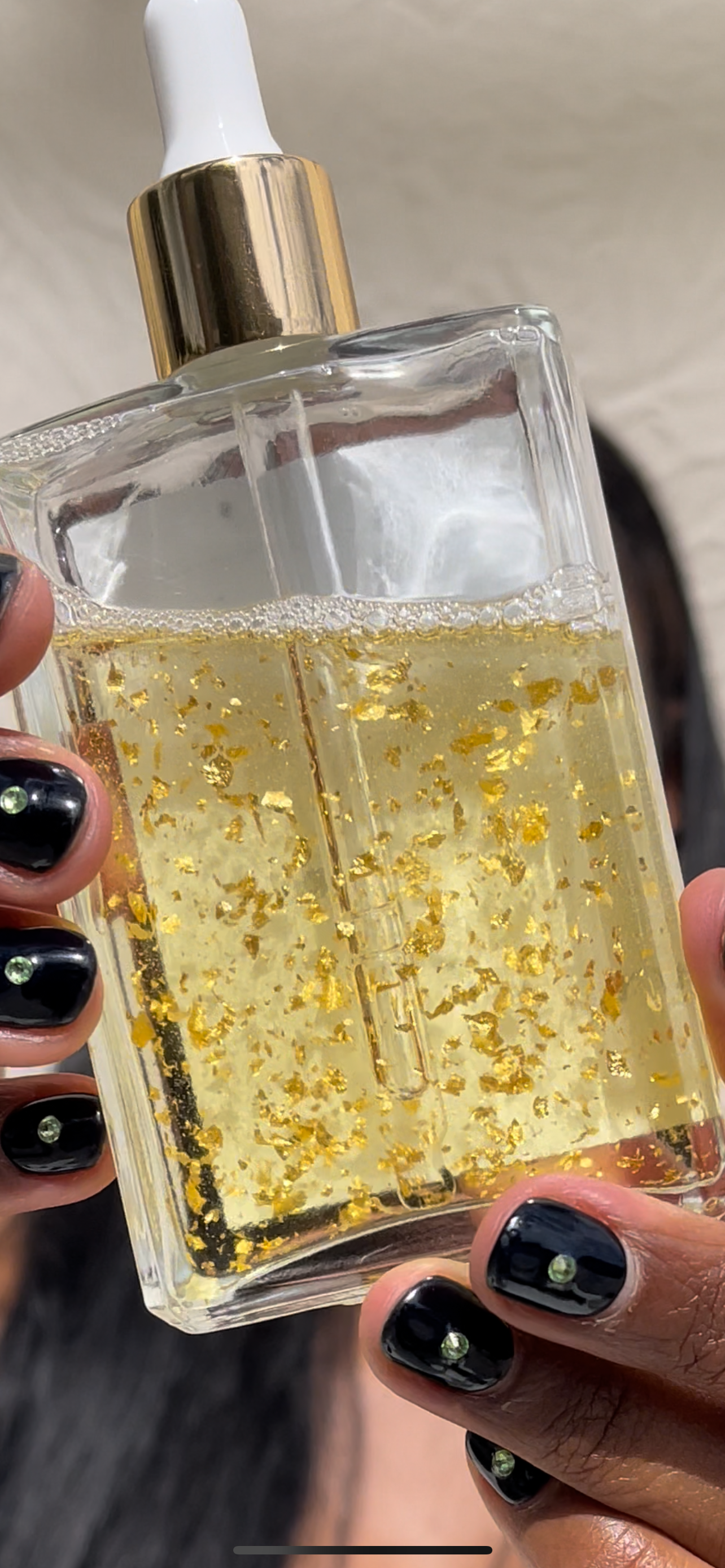 BODY HAUS - GOLDEN HOUR, A HEALING FACIAL OIL
 GOLDEN HOUR
A FACIAL OR BODY OIL
WEIGHT: LIGHT             
USE: Apply topically to the skin as often as needed
ABOUT: Ready for your life to change? And by life I mean skin. Our Golden Hour Oil will do just that. Your skin will be thanking you for adding this oil to your routine! Golden Hour is made with ingredients you probably never knew you needed.
-
GOLDEN HOUR includes : 
FRACTIONATED COCONUT OIL:
Fractionated Coconut Oil, is a feather-light emollient that softens and hydrates dry skin while increasing essential oil distribution a powerful moisturizer that will leave your skin looking soft and smooth without clogging pores and leaving oily skin. Fractionated Coconut Oil is also a perfect facial moisturizer for sensitive skin. 
-
BLUEBERRY SEED OIL:
Rejuvenates the skin due to its high antioxidant levels
Reduces wrinkles and the effect of aging
Makes the skin look plump and firm
It helps treat eczema, psoriasis, and other skin conditions
Moisturizes and nourishes the skin
Helps repair damaged skin
Helps in the healing of cracked lips and lip sores
Provides a shiny glow for the skin
Assists in the fight against harmful UV
Treats damaged skin caused by high levels of radiation
-
VANILLA IN JOJOBA OIL:
What is it? Pure vanilla bean extract in jojoba only, created through a CO2 extraction and distillation processes, offering the most potent natural essential oil available.
Due to a lot of antioxidants and Vitamin B6 found in vanilla, it proves to be an excellent remedy for treating dull and dry skin. Using vanilla essential oil regularly can help to protect your skin from several environmental factors and also keeps it moisturized for a long period of time.
-
KOKUM BUTTER:
Kokum butter's comedogenic rating is 0-1 so it can be safely used on the face. Highly moisturizing, kokum butter helps heal dry and cracked skin, especially lips, elbows, knees, and soles of feet. It may also aid in improving the appearance of scars and stretch marks. Kokum butter is rich in essential fatty acids, which soften the skin and helps promote elasticity.
-
CASTOR OIL:
Anti-inflammatory: Both castor oil and ricinoleic acid have demonstrated anti-inflammatory properties. This makes them useful for treating irritated skin.
Antimicrobial: It may also protect the skin from bacterial infections by eliminating microbes that can cause disease.
Moisturizing: Castor oil contains triglycerides. These can help maintain moisture in the skin, making it a valuable treatment for dry skin.
Hydration: Castor oil may have humectant properties, which means that it can draw moisture from the air into the skin, keeping the skin hydrated.
-
ARGAN OIL:

Protects from sun damage
Moisturizes skin
Treats a number of skin conditions
Treats acne
Heals skin infections
Improves wound healing
Soothes atopic dermatitis
Has anti-aging effects
-
CERTIFIED ORGANIC VITAMIN E OIL:

Vitamin E is basically an oil-soluble antioxidant. Among eight different types of vitamin E tocopheryl acetate and tocopherol are commonly used in skincare products. Vitamin E oil can fight against free radicals and protects your skin from damage. It also has moisturizing and healing properties that help to boost the barrier function of your skin.
Reduces Hyperpigmentation

Prevents Skin Aging

Improves Dry Skin Conditions

Reduce Dark Spots

Prevent Sun Burn

Fights Against Free Radicals
-
INGREDIENTS: Fractionated Coconut Oil, Blueberry Oil, Vanilla in Jojoba Oil, Kokum Butter, Castor Oil Argan Oil, Certified Organic Vitamin E Oil, Rose Essential Oil, 24kt Gold Foil Flakes + Rose Essential Oil
8 OUNCES
BODY HAUS - GOLDEN HOUR, A HEALING FACIAL OIL
Moisture & A Glow
Was not expecting my skin to react well to this but it rubs on so smooth as well as creates this glow. Your skin just has this bronzed look like you've been sitting in the sun. I mainly use it as my daytime moisturizer and makes me look great in sunlight.