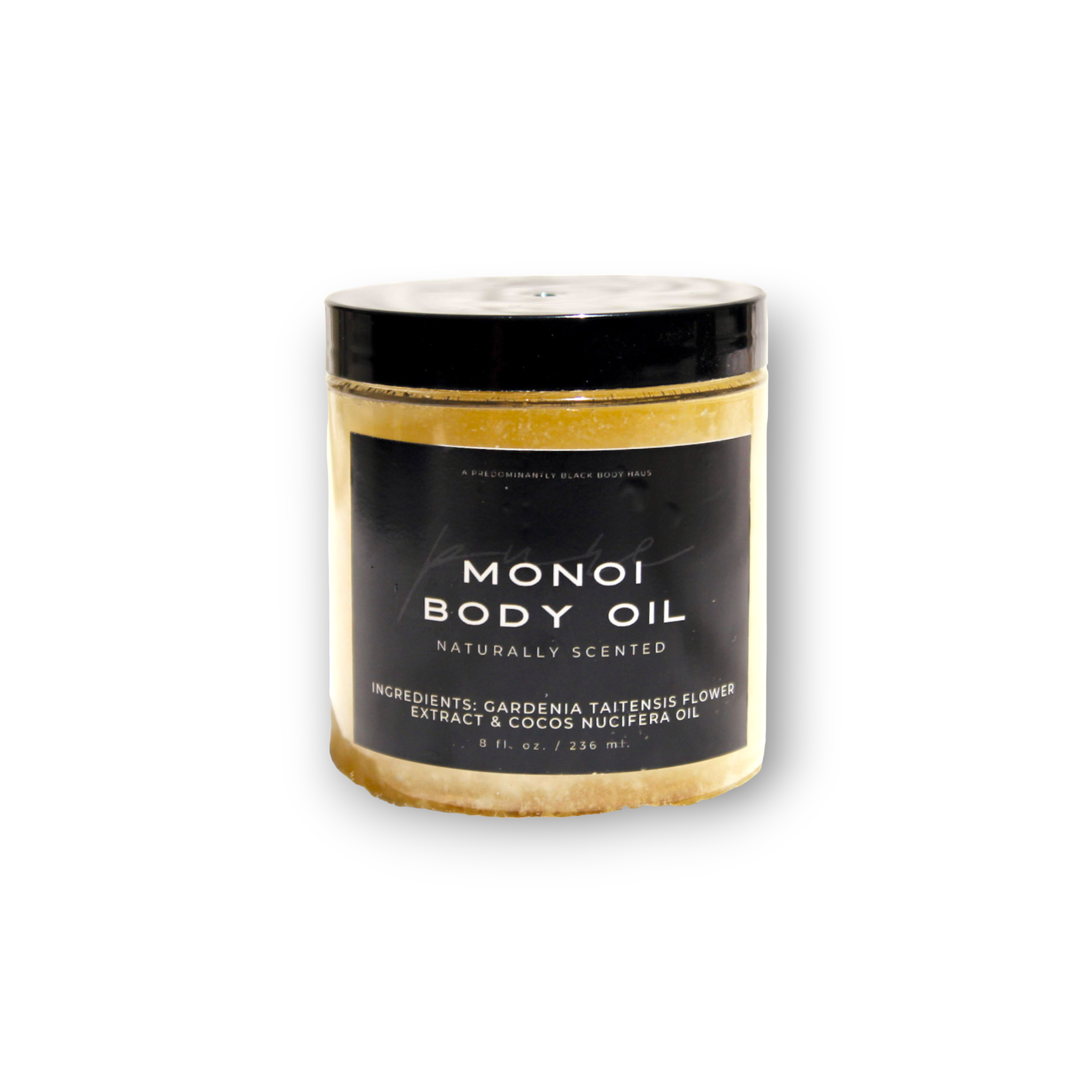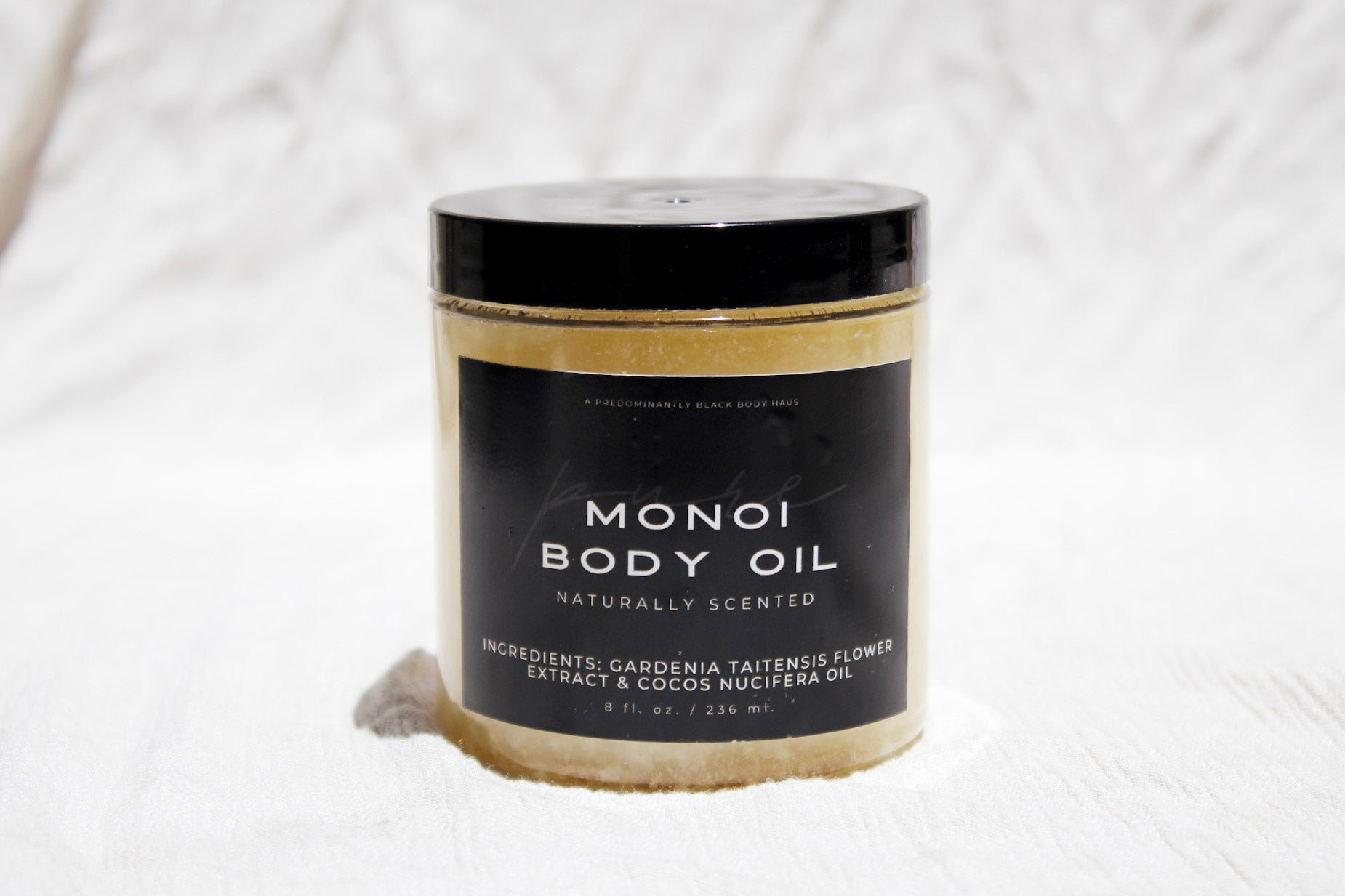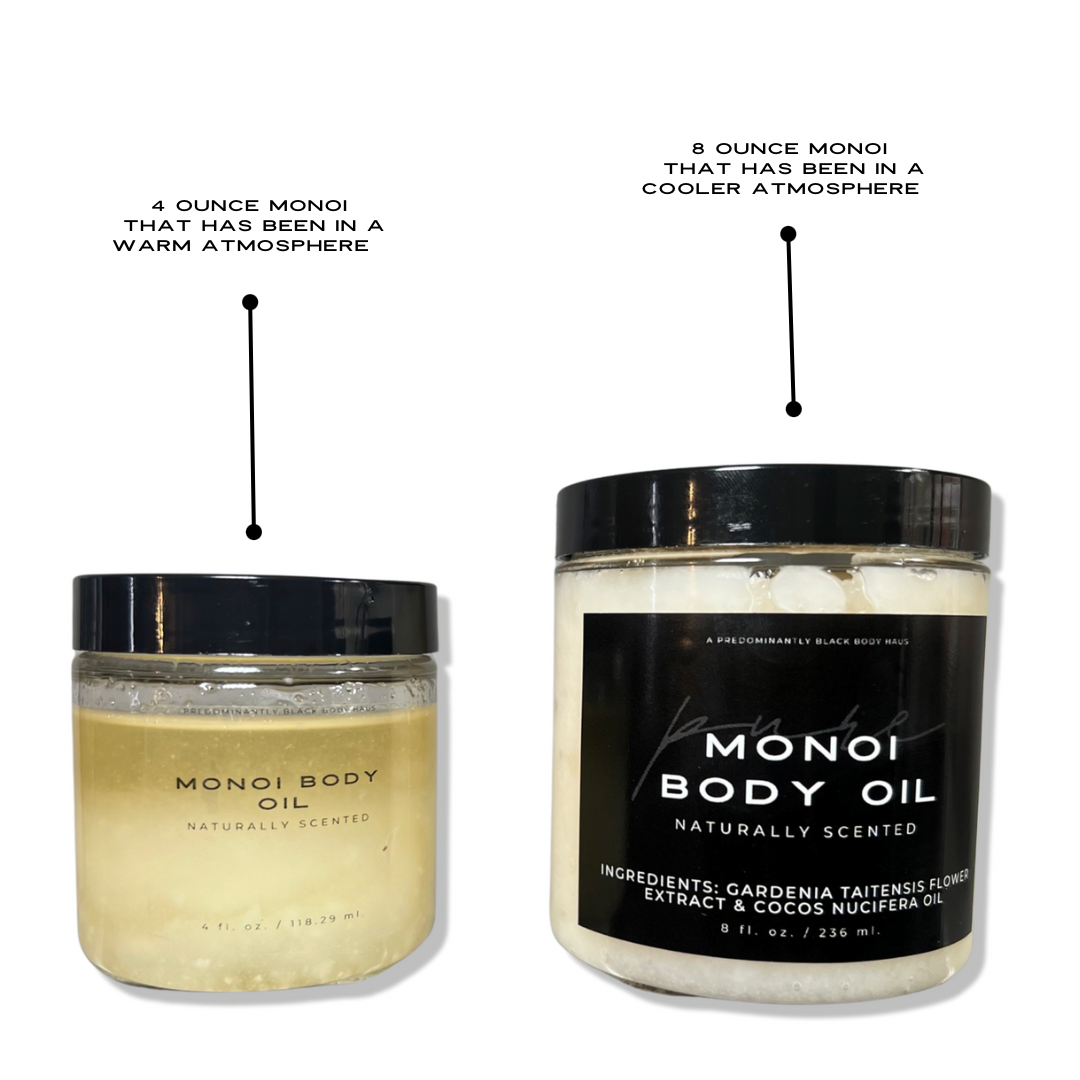 BODY HAUS - MONOI BODY OIL
Description
ABOUT
CANDLE CARE
BODY HAUS
MONOI BODY OIL
*8 OUNCE SHOWN IN PHOTO. 4 OUNCE IS SMALLER WITH CLEAR LABEL
USES: Scalp + Hair + Skin
ABOUT: Monoi is pretty much a head-to-toe healer. It's known to stimulate hair growth, heal skin, condition hair + scalp, and protect against UV treatment damage, all with a light floral, coconut scent. It has a non-viscous to soft solid appearance depending on the temperature.

ORIGIN: Unique to Tahiti, monoï oil is a staple in the medicinal, religious, and beauty rituals of indigenous Polynesians. For centuries, Polynesian peoples have steeped Tiare flowers (Tahiti's national flower) in coconut oil to create this fragrant elixir.
The process of making monoï oil is carefully supervised by the "Institut du Monoi": coconuts must be grown on coral soil and harvested at maturity.
Tiare flowers must be handpicked as buds and used within 24 hours to produce the luscious amber-colored liquid.
The careful process of creating monoï oil is only one of the factors that contribute to its many beneficial properties—such as giving skin a healthy glow. The coconut oil base is chock full of fatty acids, commonly known to have antimicrobial properties, making it ideal for those who suffer from issues associated with sensitive skin.
Monoï oil is also non-comedogenic—meaning it doesn't clog pores. Apply a rich layer to your body and your skin will get the hydration it craves, while still being able to breathe. 
INGREDIENTS: Gardenia Taitensis Flower Extract & Cocos Nucifera Oil
SIZE: 8 Ounces
NO Phthalates
NO Additives
NO Paraffin 
INGREDIENTS: 100% COCO/SOY WAX, COTTON WICK, FRAGRANCE OIL 
 HAND-POURED IN LOS ANGELES IN SMALL BATCHES
Always burn candle within sight.
Keep away from flammables. 
Keep away from children and pets. 
Trim wick to 1/4" before lighting. Best to trim wick each time prior to lighting. 
Keep candle free of any foreign materials including matches and wick trimmings. 
Only burn candle on a level, fire-resistant surface. 
Do not burn candle for more than four hours at a time. 
Stop use when only 1/4" of wax remains.
TEST, TEST, TEST. BEFORE DIVING INTO OUR PRODUCTS
PLEASE BE SURE TO DO A TEST PATCH ON YOUR SKIN TO ENSURE NO REACTIONS OCCUR. ALTHOUGH UNCOMMON, SWITCHING TO NATURAL PRODUCTS CAN CAUSE IRRITATIONS.
BODY HAUS PRODUCTS HAVE NOT BEEN EVALUATED BY THE FOOD AND DRUG ADMINISTRATION. THIS PRODUCT IS NOT INTENDED TO DIAGNOSE, TREAT, CURE OR PREVENT ANY DISEASE.
THE CONSISTENCY OF OUR PRODUCTS MAY CHANGE DUE TO EXTREME HEAT AND OR COLD WEATHER. PB HAS NO CONTROL OVER THE CONDITIONS DURING TRANSIT OR DELIVERY, PLEASE UNDERSTAND THAT WE CANNOT BE RESPONSIBLE FOR MELTED OR FROZEN PRODUCTS.
PRODUCTS MAY APPEAR INCONSISTENT IN COLOR BUT OUR NATURAL PRODUCTS ARE MADE FROM NATURAL INGREDIENTS. OUR HANDMADE PRODUCTS ARE MADE WITH CONSISTENT FORMULAS AND INGREDIENTS.
WATER CHANGES THE CONSISTENCY AND PERFORMANCE OF OUR PRODUCTS PLEASE TRY YOUR BEST NOT TO ADD WATER.
So nice!!
Ooooh!!! I like this!!! This is such a pretty floral scent. Its not overbearing, it sinks right in to your skin, and its natural. Just gardenia flower extract, and coconut oil. Perfect!! I love this oil.
Very Natural
This oil seems like it's nutritious for my skin. With similarities to coconut oil, the oil came a little hardened due to the weather and I didn't mind, but when I kept it in the bathroom when I took a shower it melted. When I put it on my skin it seemed like my skin was thirsty for it and once applied was nourished. I wish this oil was a monthly subscription!
I could give 1000000 Stars I would
I saw this oil on Facebook and I HAVE NEVER BOUGHT ANYTHING FROM A FACEBOOK AD. I didn't even know they were real businesses. I bought the small (4 ounce) jar. I loved this on my skin so much - it felt like silk. Then... I put a little on my scalp. YES YES YES AND YES I bought the large jars.. this is the best oil. Like any oil it does adapt so it will harden where cold and soften/ liquify in warm weather so be mindful but BUY BUY BUY . A LITTLE GOES A LONG WAY!!
Summer Skin Year Round
This gives your skin the perfect glow and the right amount of moisture where a little goes a long way and you won't feel oily after. It absorbs into the skin nicely and won't end up on your clothes or furniture. Also a great way to spread some scent throughout without drowning it out. The natural scent is light and just smells clean.