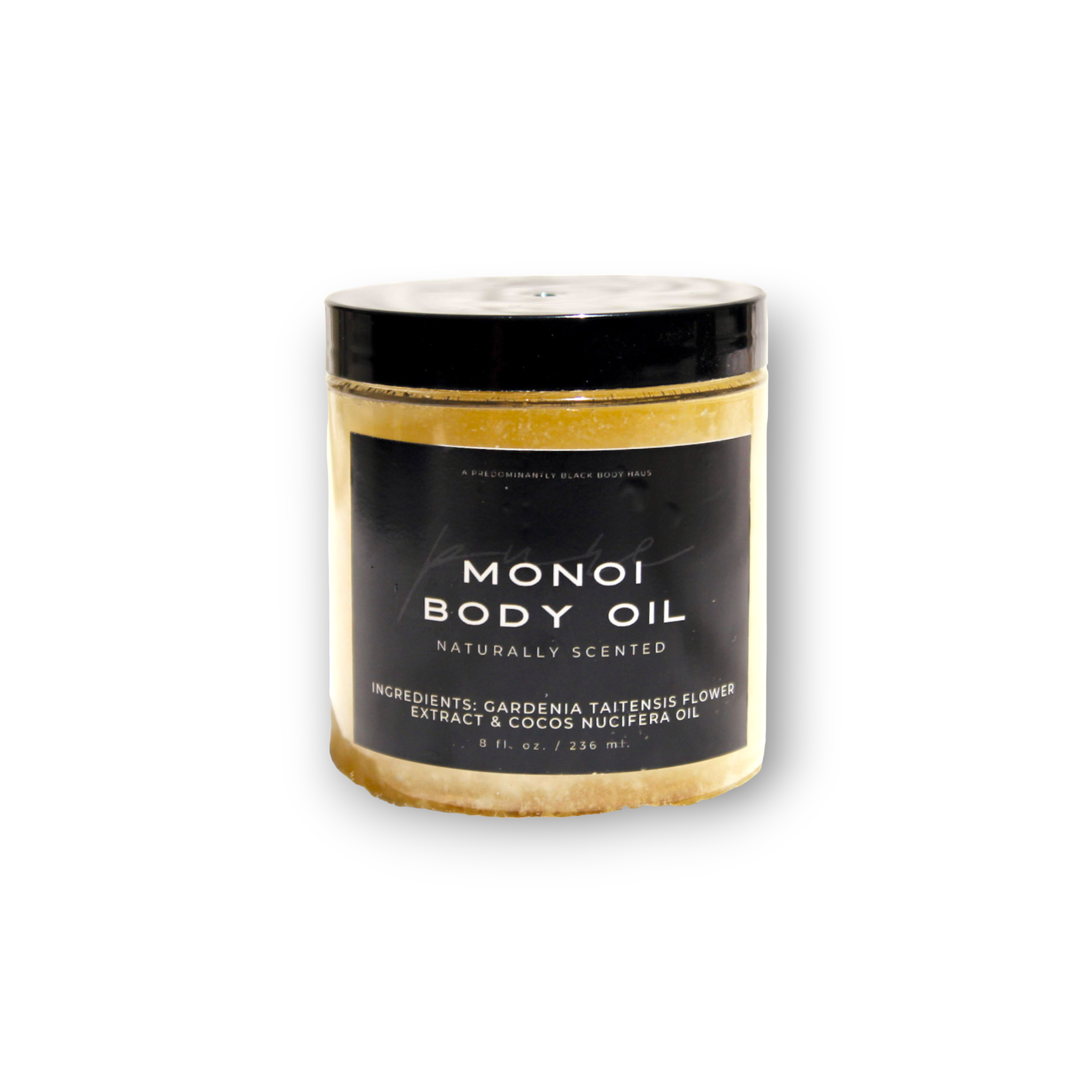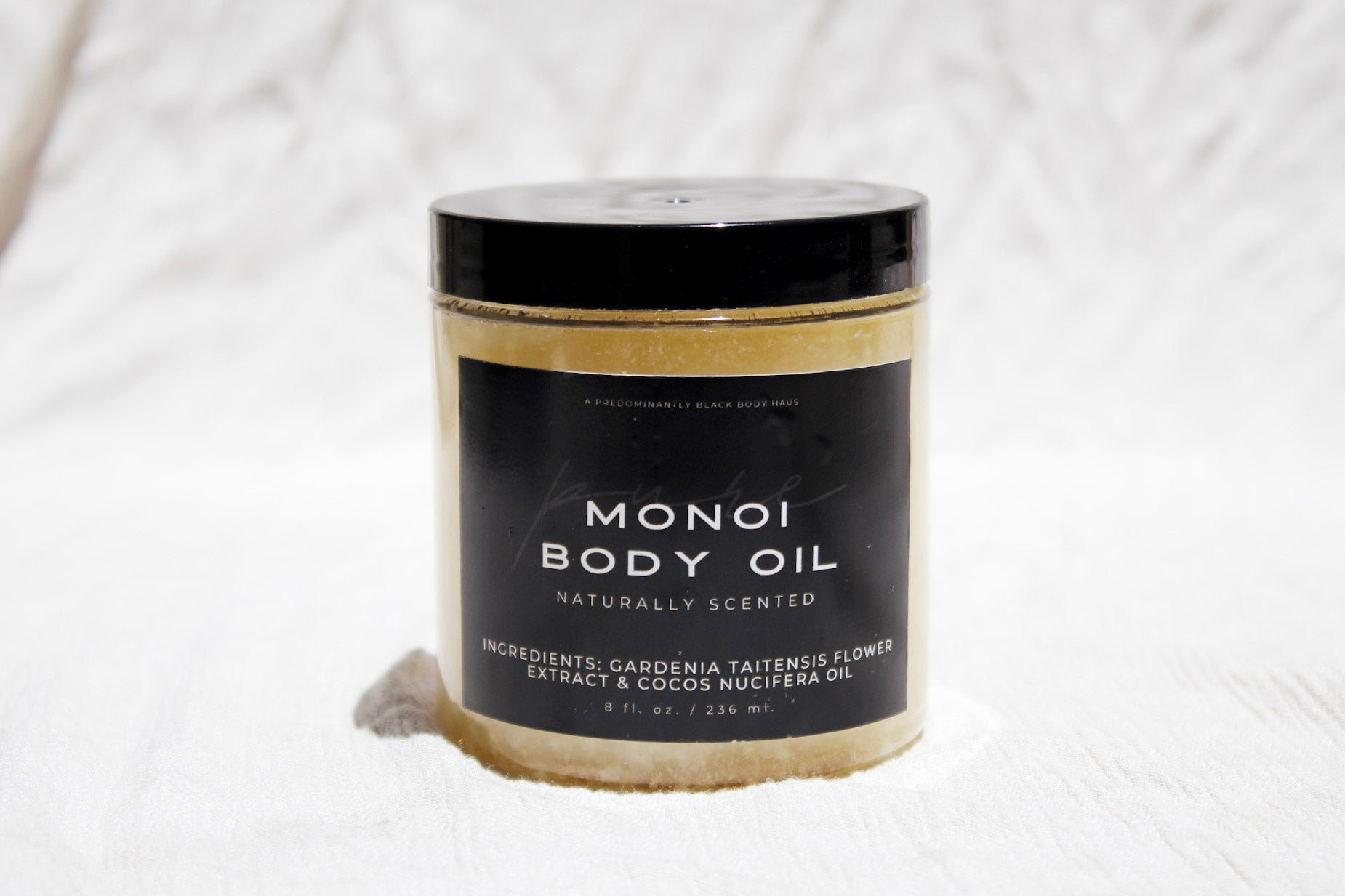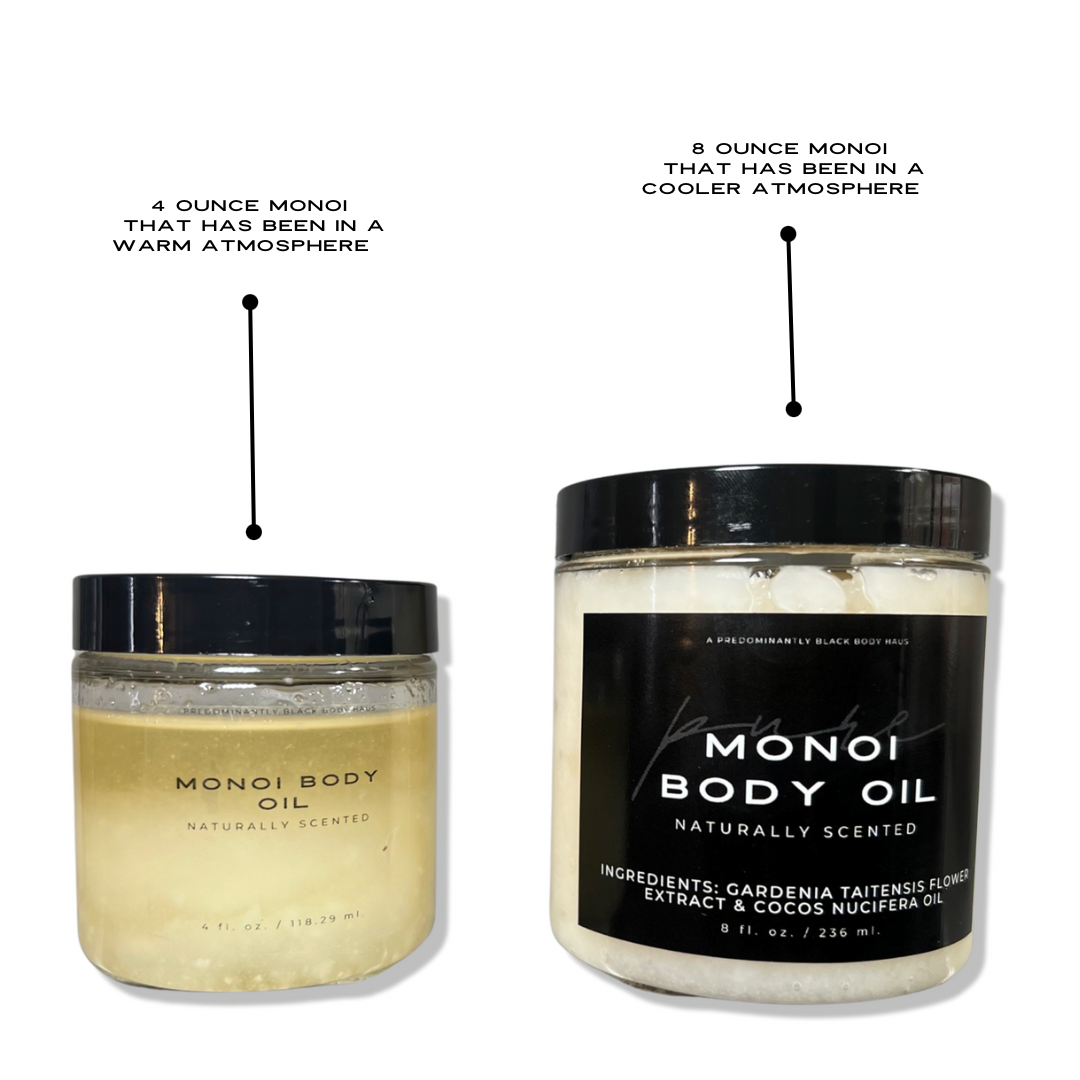 BODY HAUS - MONOI BODY OIL
MONOI BODY OIL
*8 OUNCE SHOWN IN PHOTO. 4 OUNCE IS SMALLER WITH CLEAR LABEL
USES: Scalp + Hair + Skin
ABOUT: Monoi is pretty much a head-to-toe healer. It's known to stimulate hair growth, heal skin, condition hair + scalp, and protect against UV treatment damage, all with a light floral, coconut scent. It has a non-viscous to soft solid appearance depending on the temperature.

ORIGIN: Unique to Tahiti, monoï oil is a staple in the medicinal, religious, and beauty rituals of indigenous Polynesians. For centuries, Polynesian peoples have steeped Tiare flowers (Tahiti's national flower) in coconut oil to create this fragrant elixir.
The process of making monoï oil is carefully supervised by the "Institut du Monoi": coconuts must be grown on coral soil and harvested at maturity.
Tiare flowers must be handpicked as buds and used within 24 hours to produce the luscious amber-colored liquid.
The careful process of creating monoï oil is only one of the factors that contribute to its many beneficial properties—such as giving skin a healthy glow. The coconut oil base is chock full of fatty acids, commonly known to have antimicrobial properties, making it ideal for those who suffer from issues associated with sensitive skin.
Monoï oil is also non-comedogenic—meaning it doesn't clog pores. Apply a rich layer to your body and your skin will get the hydration it craves, while still being able to breathe. 
INGREDIENTS: Gardenia Taitensis Flower Extract & Cocos Nucifera Oil
SIZE: 8 Ounces
BODY HAUS - MONOI BODY OIL
So nice!!
Ooooh!!! I like this!!! This is such a pretty floral scent. Its not overbearing, it sinks right in to your skin, and its natural. Just gardenia flower extract, and coconut oil. Perfect!! I love this oil.
Very Natural
This oil seems like it's nutritious for my skin. With similarities to coconut oil, the oil came a little hardened due to the weather and I didn't mind, but when I kept it in the bathroom when I took a shower it melted. When I put it on my skin it seemed like my skin was thirsty for it and once applied was nourished. I wish this oil was a monthly subscription!
The monoi oil is quite gritty/not smooth at all!
I have purchased from PreDominantly Black before. Again her product is a total win. It surprised me at first, a solid oil. But baby. It smooths on, then absorbs so nicely. I love it and would purchase again