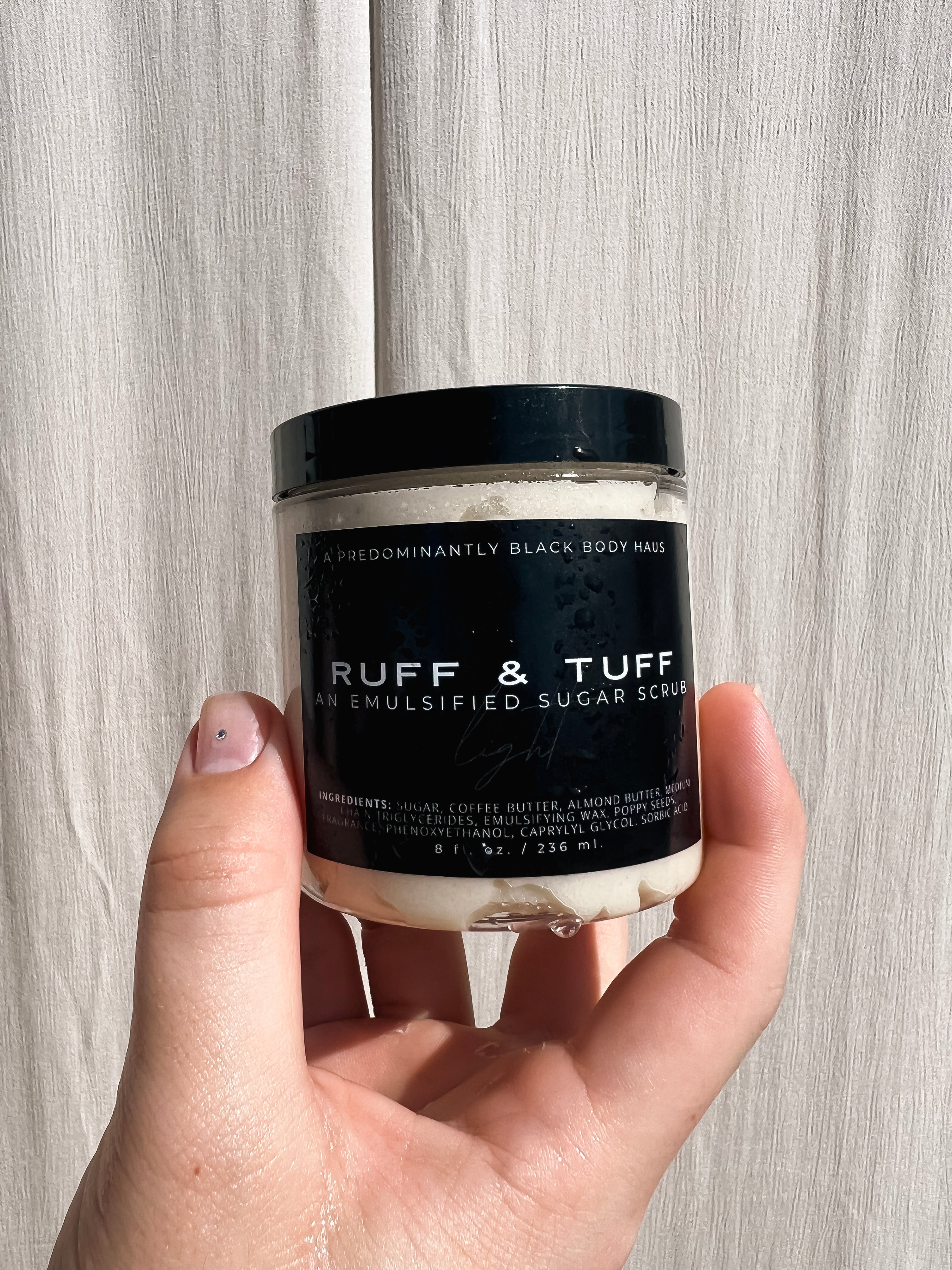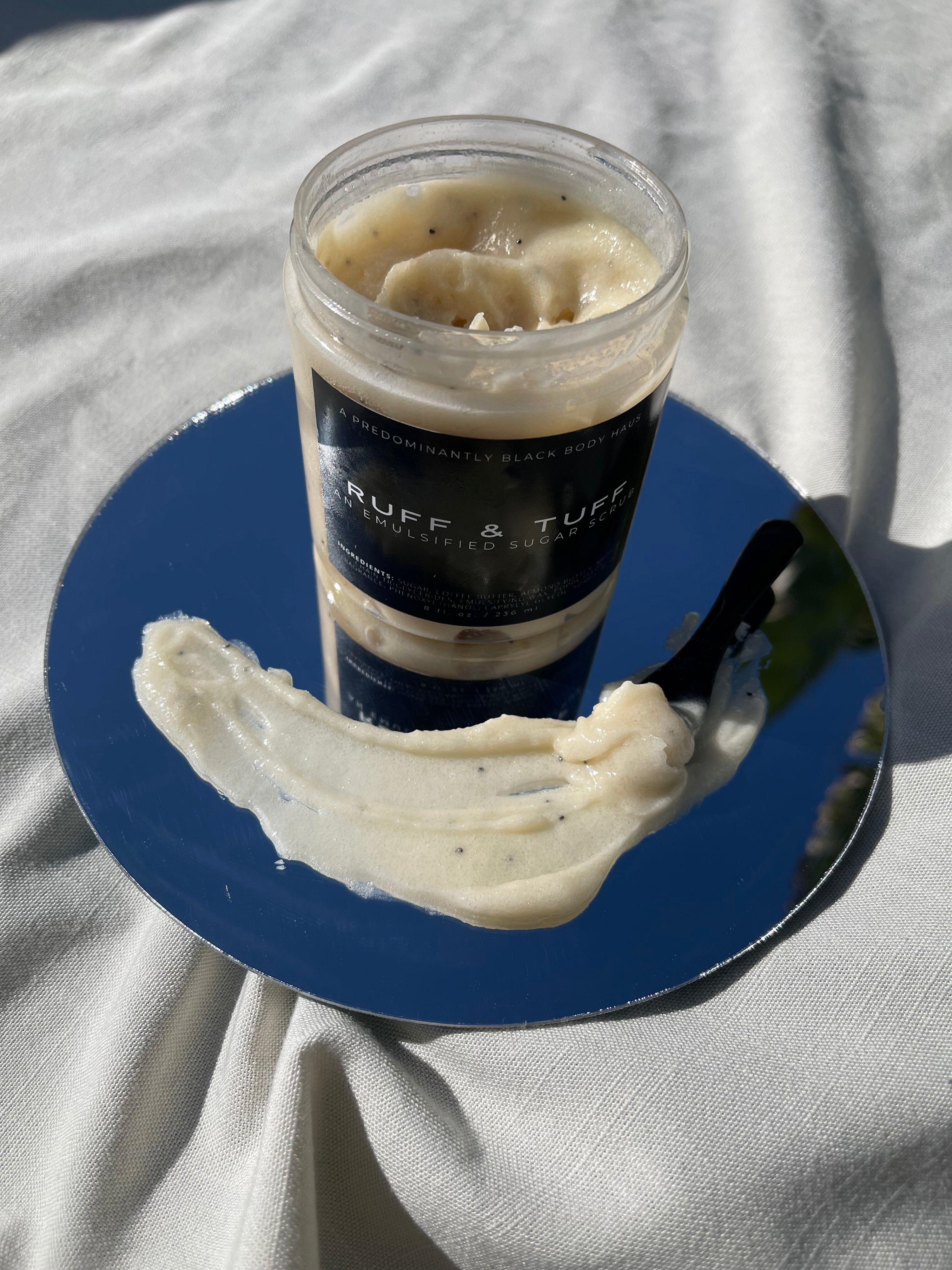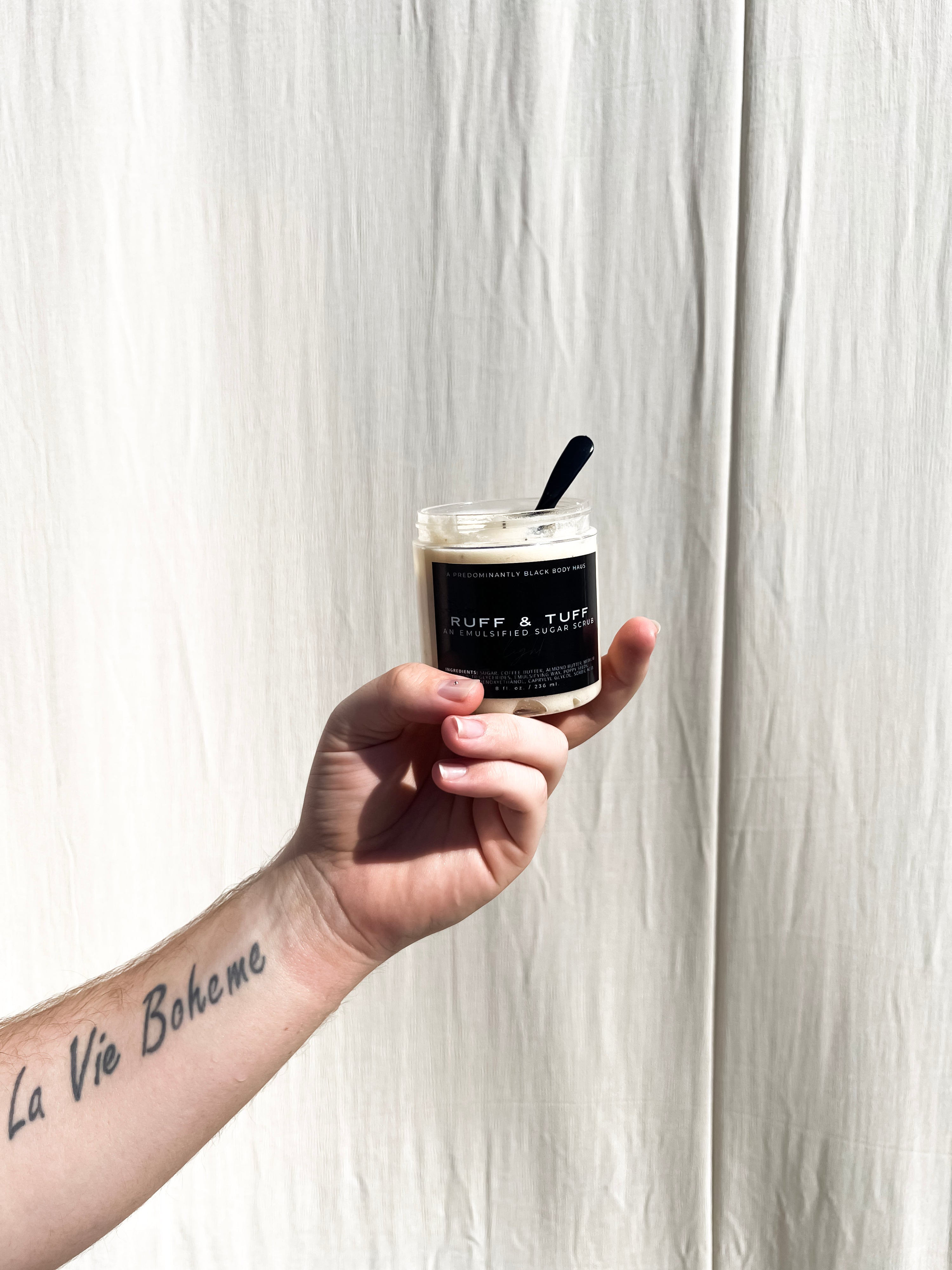 BODY HAUS - RUFF & TUFF LITE
Description
ABOUT
CANDLE CARE
BODY HAUS
RUFF & TUFF LITE
ABOUT: RUFF & TUFF LITE is a finer, butter-based coffee butter and almond butter, version of our RUFF & TUFF.
-
Coffee Butter is intensely moisturizing and endows the skin with a delectably smooth texture, in addition to helping maintain a supple look and youthful brilliance. Coffee oil is also a popular ingredient in cellulite formulations, as its caffeine content is reputed to support the integrity of the skin. This scrub does not lather but does moisturize. 
TEXTURE: Very fine-grained sugar. Mousse-like texture. Perfect for extremely sensitive skin.
SCENT: Light Coffee 

Why Sugar vs. Salt? Salt scrubs are great and have their own benefits, but our fine granular sugar cane crystals provide a more gentle exfoliation and are often used to correct dryness and scaling. Sugar is naturally an emollient, a mild emulsifier, and a humectant, which helps soften and soothe skin. 
INGREDIENTS: 
Sugar, Coffee Butter, Almond Butter, Medium Chain Triglycerides, Emulsifying Wax, Poppy Seeds, Fragrance, Phenoxyethanol, Caprylyl Glycol, Sorbic Acid.
NO Phthalates
NO Additives
NO Paraffin 
INGREDIENTS: 100% COCO/SOY WAX, COTTON WICK, FRAGRANCE OIL 
 HAND-POURED IN LOS ANGELES IN SMALL BATCHES
Always burn candle within sight.
Keep away from flammables. 
Keep away from children and pets. 
Trim wick to 1/4" before lighting. Best to trim wick each time prior to lighting. 
Keep candle free of any foreign materials including matches and wick trimmings. 
Only burn candle on a level, fire-resistant surface. 
Do not burn candle for more than four hours at a time. 
Stop use when only 1/4" of wax remains.
TEST, TEST, TEST. BEFORE DIVING INTO OUR PRODUCTS
PLEASE BE SURE TO DO A TEST PATCH ON YOUR SKIN TO ENSURE NO REACTIONS OCCUR. ALTHOUGH UNCOMMON, SWITCHING TO NATURAL PRODUCTS CAN CAUSE IRRITATIONS.
BODY HAUS PRODUCTS HAVE NOT BEEN EVALUATED BY THE FOOD AND DRUG ADMINISTRATION. THIS PRODUCT IS NOT INTENDED TO DIAGNOSE, TREAT, CURE OR PREVENT ANY DISEASE.
THE CONSISTENCY OF OUR PRODUCTS MAY CHANGE DUE TO EXTREME HEAT AND OR COLD WEATHER. PB HAS NO CONTROL OVER THE CONDITIONS DURING TRANSIT OR DELIVERY, PLEASE UNDERSTAND THAT WE CANNOT BE RESPONSIBLE FOR MELTED OR FROZEN PRODUCTS.
PRODUCTS MAY APPEAR INCONSISTENT IN COLOR BUT OUR NATURAL PRODUCTS ARE MADE FROM NATURAL INGREDIENTS. OUR HANDMADE PRODUCTS ARE MADE WITH CONSISTENT FORMULAS AND INGREDIENTS.
WATER CHANGES THE CONSISTENCY AND PERFORMANCE OF OUR PRODUCTS PLEASE TRY YOUR BEST NOT TO ADD WATER.