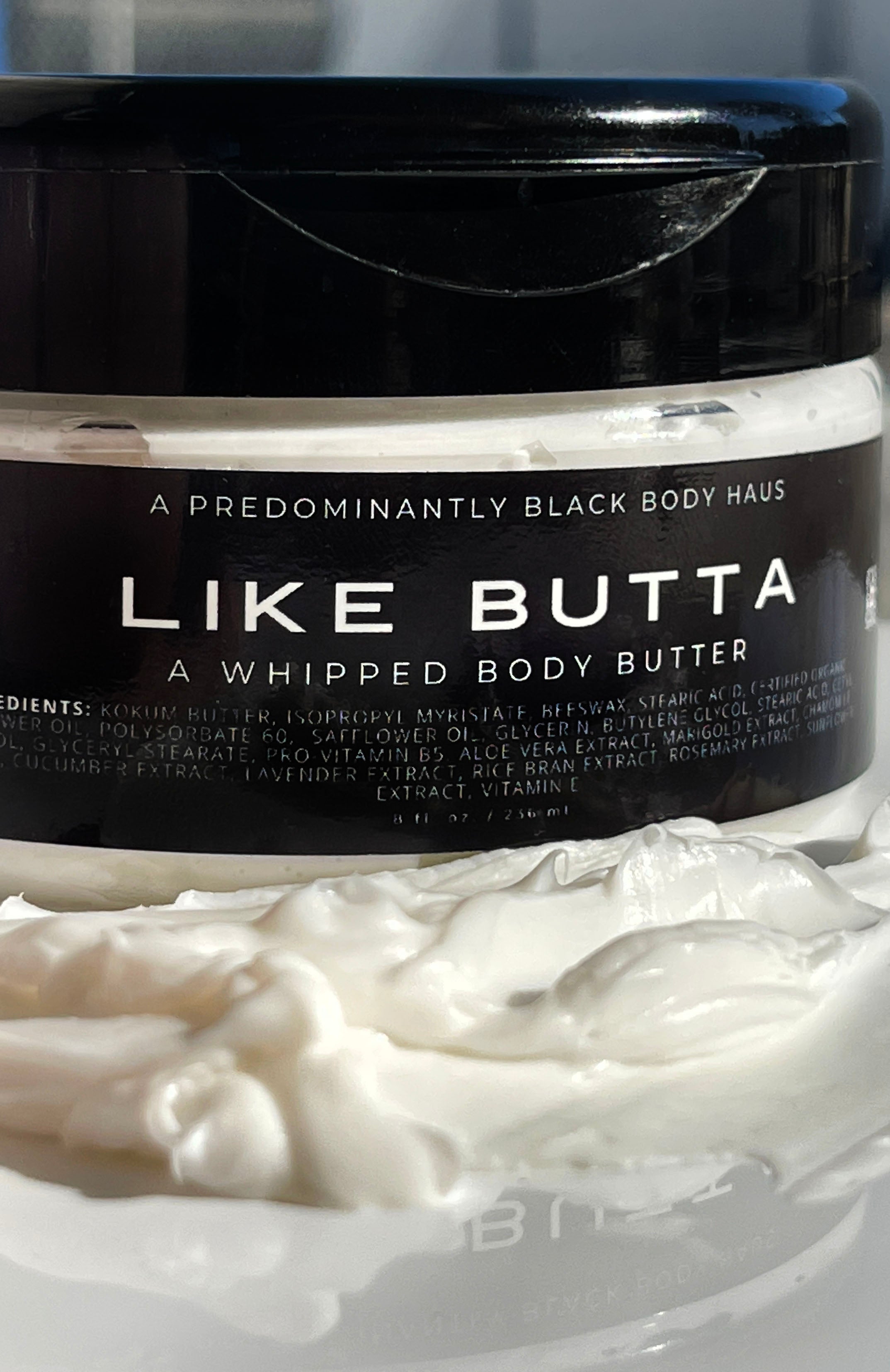 BODY HAUS - LIKE BUTTA, WHIPPED BODY BUTTER
LIKE BUTTA
A WHIPPED BODY BUTTER 
Our "Like Butta" is a soft and airy whipped body butter! Handmade with some of the best skin-loving ingredients our "Like Butta"  Whipped Body Butter will absorb quickly without an oily feeling. A little goes a long way and is sure to last!
Texture: Light, Whipped Butter, Airy 
Finish: Dry, Not oily
Some of the great ingredients include: 
Beeswax: By providing a watertight layer over our skin, beeswax locks our water molecules close to our skin, helping it remain hydrated and moisturized. All of this makes beeswax one of the best DIY moisturizers, making our skin softer, more flexible, and more supple.
Hemp Seed Oil: Hemp oil is perfect for most skin types as it can moisturize without clogging your pores. It can even help to balance out oily skin, hydrating it, and regulating the skin's oil production. Hemp oil can prevent dry skin without clogging pores. This helps reduce acne that's caused by excess oil.
Sunflower Oil: The vitamin E in sunflower oil has antioxidants that help with premature aging and wrinkles, keeping your skin looking young and fresh. Sunflower oil also contains linoleic acid, which helps your skin retain moisture so it becomes less dry. In addition, linoleic acid helps to protect the face from bacteria and germs.
INGREDIENTS: Water, Isopropyl Myristate, Beeswax, Stearic Acid, Cetearyl Alcohol, Sunflower Oil, Polysorbate 60, Sodium Borate, Disodium EDTA, Fragrance, Hemp Seed Extract.
BODY HAUS - LIKE BUTTA, WHIPPED BODY BUTTER
Tobacco flower is one of my favorite smells ever so finding this scent in a Lotion made my Dat. But this lotion has been amazing and is now my favorite lotion.
Aptly named
I haven't been able to find a Lotion that my skin likes in so fucking long until now. Not only is tobacco flower/leaf one of my favorite scents ever but my skin feels amazing. I am so glad I bought it.
My skin feels hydrated & soft ✨