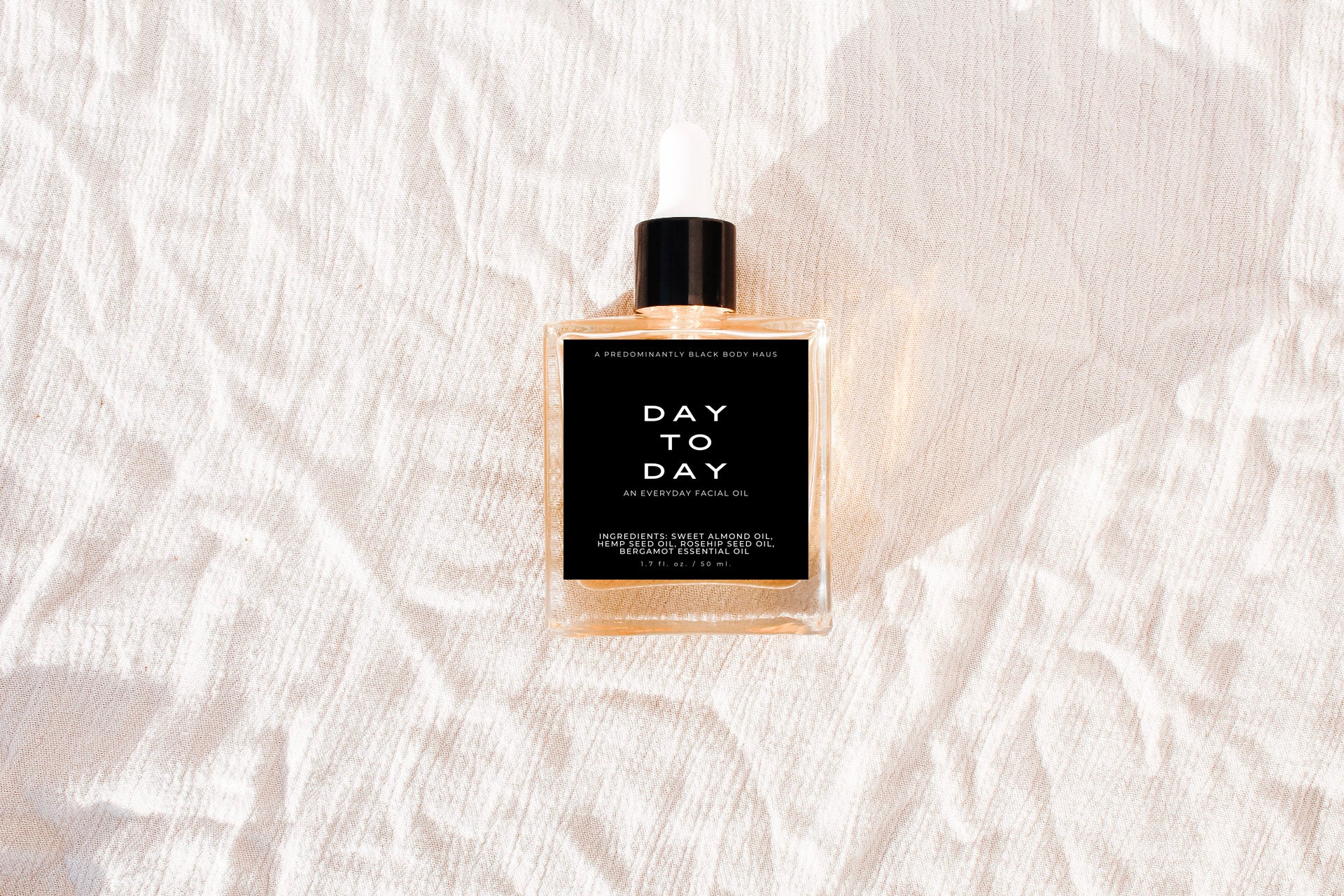 BODY HAUS - DAY TO DAY CALMING FACIAL OIL
Description
ABOUT
CANDLE CARE
BODY HAUS
DAY TO DAY FACIAL OIL
USES: Facial Oil 
TEXTURE: Thin, Wear alone every day all day or even under makeup,
SCENT: Slight Bergamont Essential Oil. The scent is extremely light. Practically scentless.
ABOUT: Our DAY-TO-DAY facial oil is a topical facial oil and is my personal favorite! With a base of Organic Unrefined Sweet Almond Oil. 
GOOD FOR: Combo + Oily Skin
ALMOND OIL :
The most famous benefit is the immediate boost of moisture it locks into the skin. Thanks to its emollient properties and high percentages of vitamin E, magnesium, phosphorus, and copper.

Helps restore the outer layer of skin, prevents water loss, and rehabs dry, flaking skin

Improves complexion and skin tone

Assists with sun damage

Calms skin irritation 

Its anti-inflammatory fatty acids and vitamins A and E can be soothing to inflamed skin and may help to rejuvenate damaged skin

Reduces the appearance of scars
HEMP SEED OIL:
Treats eczema

Prevents dry skin
Reduces inflammation

Prevents free radical damage -

Shield your skin and keep harmful toxins at bay. seed oil repairs the skin barrier and protects against environmental aggressors that damage the skin and cause premature aging, such as sunlight, radiation, pollution, cigarette smoke, and exposure to extremely hot and cold temperatures
ORGANIC CASTOR OIL:
Preventing wrinkles. Castor oil contains antioxidants that fight free radicals in your body
Fighting acne. Castor oil has antibacterial properties
Reducing puffiness
Moisturizing
Soothing sunburn
Fighting dry lips
Promoting overall skin health
ORGANIC ROSEHIP OIL:
Hydrates
Moisturizes

H

elps exfoliate and brighten skin

H

elps boost collagen formation

H

elps reduce inflammation

H

elps protect against sun damage
Helps reduce hyperpigmentation
BERGAMOT ESSENTIAL OIL:
Bergamot Oil Purifies: Thanks to its antibacterial properties, Bergamot Essential Oil is a natural cleanser. It's particularly good for oily skin, helping to unclog pores and balance sebum levels to get skin glowing for all the right reasons.
Helps promote cell renewal and rejuvenation

Promotes healthy skin tone and texture

Helps reduce acne breakouts
INGREDIENTS: Sweet Almond Oil,  Seed Oil, Rosehip Seed Oil,  Bergamot Essential Oil
4 Ounce
NO Phthalates
NO Additives
NO Paraffin 
INGREDIENTS: 100% COCO/SOY WAX, COTTON WICK, FRAGRANCE OIL 
 HAND-POURED IN LOS ANGELES IN SMALL BATCHES
Always burn candle within sight.
Keep away from flammables. 
Keep away from children and pets. 
Trim wick to 1/4" before lighting. Best to trim wick each time prior to lighting. 
Keep candle free of any foreign materials including matches and wick trimmings. 
Only burn candle on a level, fire-resistant surface. 
Do not burn candle for more than four hours at a time. 
Stop use when only 1/4" of wax remains.
TEST, TEST, TEST. BEFORE DIVING INTO OUR PRODUCTS
PLEASE BE SURE TO DO A TEST PATCH ON YOUR SKIN TO ENSURE NO REACTIONS OCCUR. ALTHOUGH UNCOMMON, SWITCHING TO NATURAL PRODUCTS CAN CAUSE IRRITATIONS.
BODY HAUS PRODUCTS HAVE NOT BEEN EVALUATED BY THE FOOD AND DRUG ADMINISTRATION. THIS PRODUCT IS NOT INTENDED TO DIAGNOSE, TREAT, CURE OR PREVENT ANY DISEASE.
THE CONSISTENCY OF OUR PRODUCTS MAY CHANGE DUE TO EXTREME HEAT AND OR COLD WEATHER. PB HAS NO CONTROL OVER THE CONDITIONS DURING TRANSIT OR DELIVERY, PLEASE UNDERSTAND THAT WE CANNOT BE RESPONSIBLE FOR MELTED OR FROZEN PRODUCTS.
PRODUCTS MAY APPEAR INCONSISTENT IN COLOR BUT OUR NATURAL PRODUCTS ARE MADE FROM NATURAL INGREDIENTS. OUR HANDMADE PRODUCTS ARE MADE WITH CONSISTENT FORMULAS AND INGREDIENTS.
WATER CHANGES THE CONSISTENCY AND PERFORMANCE OF OUR PRODUCTS PLEASE TRY YOUR BEST NOT TO ADD WATER.
I have baby soft skin because of this
Don't use unless you want your skin to feel like the softest most luxurious skin you've ever felt. I need a lifetime supply 💕 it doesn't feel thick or clock my pores. 10/10!