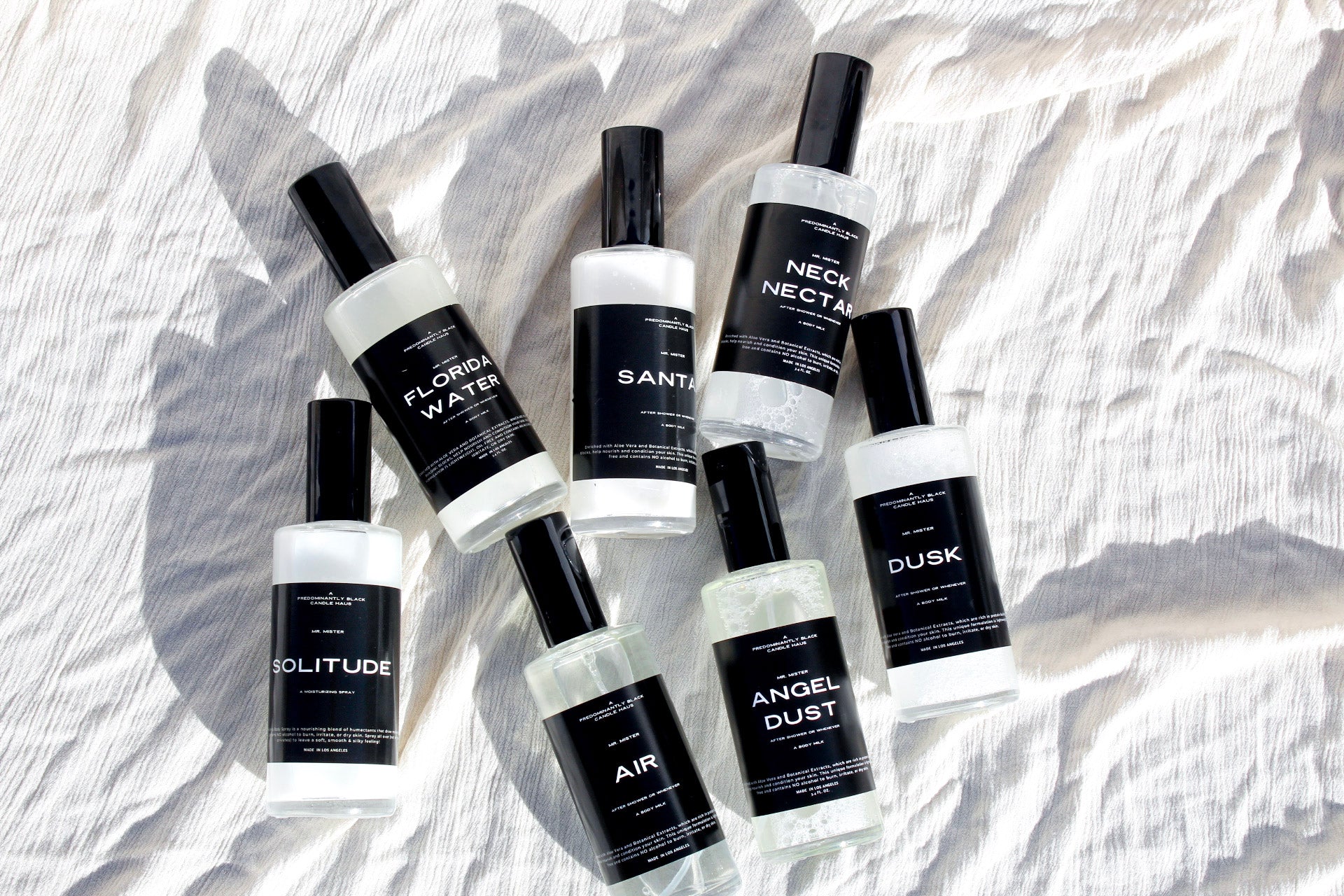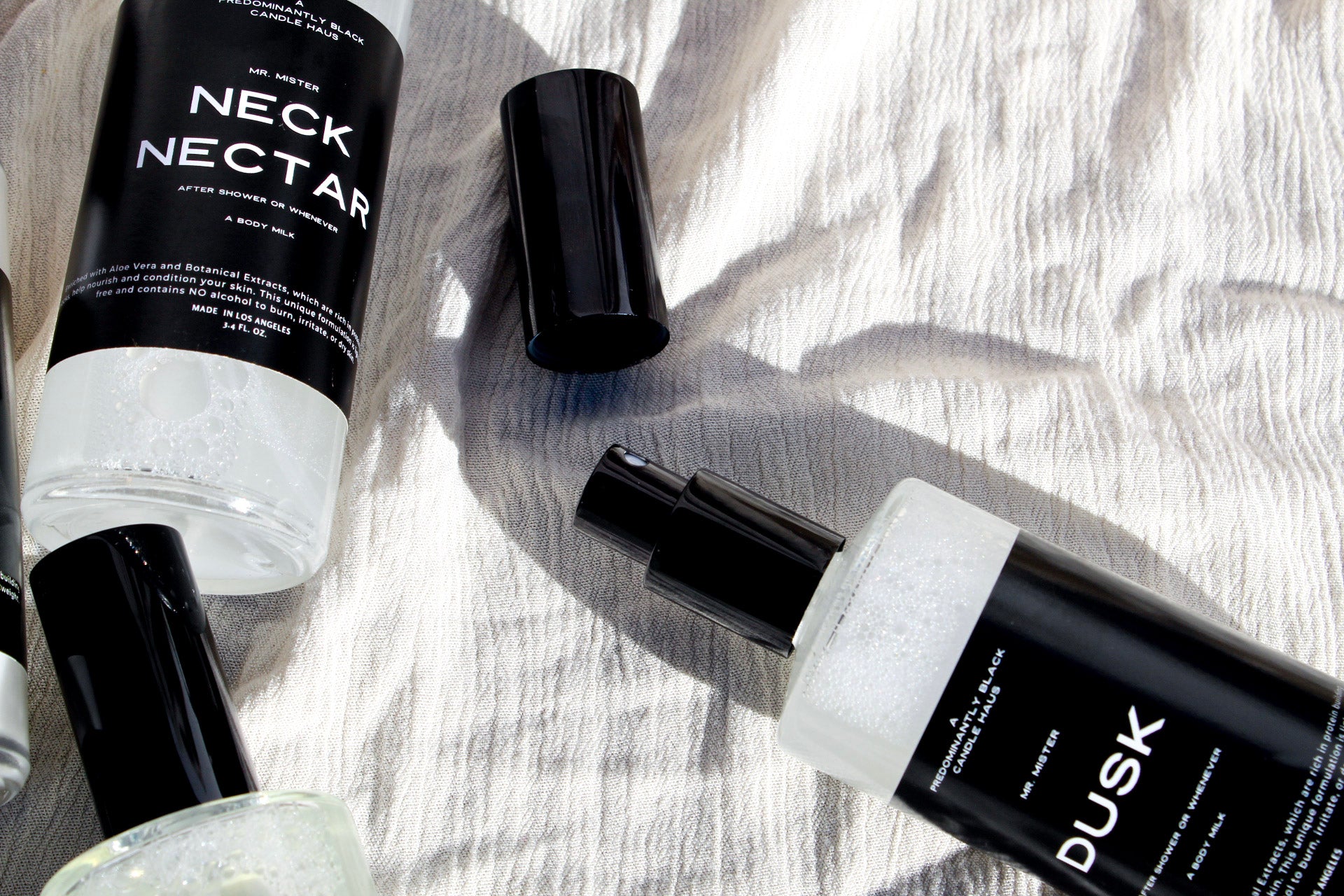 Mr. Mister A Body Milk - A Non-Alcoholic Body Spray
Description
ABOUT
CANDLE CARE
BODY HAUS
Mr. Mister is an all-natural after-shower (or whenever) body milk mist. It's enriched with Aloe Vera and Botanical Extracts, which are rich in protein building blocks, and help nourish and condition your skin. This unique formulation is lightweight, oil-free, and contains NO alcohol to burn, irritate, or dry skin. Spray all over to leave a soft, smooth & silky feeling.
Scent: Air
The fresh, light scent of aqua lotus, melon essence, rose water, white woods, and sheer musk.
Scent: Dusk
This fragrance is all-natural iso 9235 certified
The refreshing scent of morning mist, aloe water violet leaves, raspberry, nectarine, osmanthus, cedarwood
Scent: Angel Dust 
The charming essence of blooming peonies, bergamot, delicate rose, opulent jasmine, delicate hints of mossy cedarwood, musky patchouli, and a mist of ozone gently mingle with blush suede. The suede is not leathery but a slightly powdery musk that enhances the delicate allure of the other notes. A soft and sensually feminine floral.
Scent: Florida Water 
The enticing essence of sweet sugar is gently blended with energizing fresh lemon. Notes: Italian Bergamot, Yuzu, Mandarin, Lychee Flower, Orange Blossom, Ginger Flower, Oak Moss, Caramel & White Santal 
Scent: Neck Nectar
Bends succulent nectarines, cassis, and bergamot with bright grapefruit and a sweet, musky flower essence that melts into notes of acacia honey. A lovely, light, clean floral scent to add to your collection.
Scent: Santal
 Deep, dark, and masculine... pure perfection. Our newest scent, Santal has notes of a violet accord blended with cardamom, iris, and ambrox sitting on a base bed of cedarwood, leather, and sandalwood.
Scent: Solitude
Our signature scent, Solitude is not being offered as a Mr. Mister!
Relax and unwind with the naturally soothing scents of lavender, sage, and lemon. 
Scent: Vanilla Dew
 Sweet vanilla musk wrapped with ripe fig, bergamot, fresh peach, candied rum, and dark amber.
________________________________________________________________________________________


Vegan, Soy-free, Non-GMO, Gluten-free, Sulfate-free, Alcohol-free, Paraben-free, Phthalate-free, Mineral oil-free, Formaldehyde free, Cruelty-Free
-
No Animal Testing
-
Cosmetic grade & used to impart a silky, "moisturizing" feel on the skin.
100% evaporation at room temp & leaves no residue or buildup.
Spreads easily & creates excellent lubrication on the skin.
-
ingredients: Water, Surfactant, Polysorbate 20, Dipropylene Glycol, Glycerin, DMDM Hydantoin, Butylated Hydroxytoluene (BHT)
What is:
Surfactants = wetting agents that allow for lubricity & easier spreading.
Polysorbate 20 = Emulsifier, which binds the fragrance to the base.
Dipropylene Glycol = Non-toxic solvent that dissolves fragrance has a low evaporation rate & high viscosity
Glycerin= Natural, vegetable-based humectant that draws moisture to the skin.
DMDM Hydantoin = Preservative.
Butylated Hydroxy Toluene = Antioxidant that enables fragrances to dissolve in oils & fats, providing you with the best dispersion 
NO Phthalates
NO Additives
NO Paraffin 
INGREDIENTS: 100% COCO/SOY WAX, COTTON WICK, FRAGRANCE OIL 
 HAND-POURED IN LOS ANGELES IN SMALL BATCHES
Always burn candle within sight.
Keep away from flammables. 
Keep away from children and pets. 
Trim wick to 1/4" before lighting. Best to trim wick each time prior to lighting. 
Keep candle free of any foreign materials including matches and wick trimmings. 
Only burn candle on a level, fire-resistant surface. 
Do not burn candle for more than four hours at a time. 
Stop use when only 1/4" of wax remains.
TEST, TEST, TEST. BEFORE DIVING INTO OUR PRODUCTS
PLEASE BE SURE TO DO A TEST PATCH ON YOUR SKIN TO ENSURE NO REACTIONS OCCUR. ALTHOUGH UNCOMMON, SWITCHING TO NATURAL PRODUCTS CAN CAUSE IRRITATIONS.
BODY HAUS PRODUCTS HAVE NOT BEEN EVALUATED BY THE FOOD AND DRUG ADMINISTRATION. THIS PRODUCT IS NOT INTENDED TO DIAGNOSE, TREAT, CURE OR PREVENT ANY DISEASE.
THE CONSISTENCY OF OUR PRODUCTS MAY CHANGE DUE TO EXTREME HEAT AND OR COLD WEATHER. PB HAS NO CONTROL OVER THE CONDITIONS DURING TRANSIT OR DELIVERY, PLEASE UNDERSTAND THAT WE CANNOT BE RESPONSIBLE FOR MELTED OR FROZEN PRODUCTS.
PRODUCTS MAY APPEAR INCONSISTENT IN COLOR BUT OUR NATURAL PRODUCTS ARE MADE FROM NATURAL INGREDIENTS. OUR HANDMADE PRODUCTS ARE MADE WITH CONSISTENT FORMULAS AND INGREDIENTS.
WATER CHANGES THE CONSISTENCY AND PERFORMANCE OF OUR PRODUCTS PLEASE TRY YOUR BEST NOT TO ADD WATER.
Light and hydrating
I like the texture of this body mist, its light and can be rubbed into the skin, it feels lightly moisturizing. The scents i have bought so far were cashmere(discontinued), florida water, and Air. I went out of my comfort zone when i got cashmere, it was a warm vanilla and pear scent with some musk i think. Nice, but definitely not for me(5/5).
I got Florida Water thinking i would get a nice cirtusy floral scent....unfortunately for me, it smells a little too much like a lemon cleanser . I don't get much sweetness or floral(2/5).
Air is my favorite so far, it's light and refreshing and pretty aptly named. I pretty much get all the notes within, and it overall to me just smells clean, like you just took a bubble bath. I like it.(5/5)
I do enjoy these Mr. Misters lol i love the name. They feel really nice on your skin, you could probably layer them if you like, and they aren't obnoxious. You smell them, and those close to you may smell them, but they aren't really loud, And i appreciate that. I will defintly be trying more scents.
Perfect for Nights Out
I put this on all the time before I go on dates and without fail, guys always tell me I smell great. It also can be reapplied really easily with a light spray and rub in or (how I do it) layered with the monoi body oil. Also will not leave your skin feeling dry or sticky which is an added benefit as the scent is really strong but does not irritate or leave any residue feeling.
light and non irritating
love this lil glass bottle! i just picked a scent cuz i wanted to try. and so far the spray is so nice, not overwhelming like a VS body spray. i sort of get irritation from certain lotions and sprays but since this one has no alcohol in it, ive beenspraying it on my skin and hair without hesitation. cant wait to try another scent!