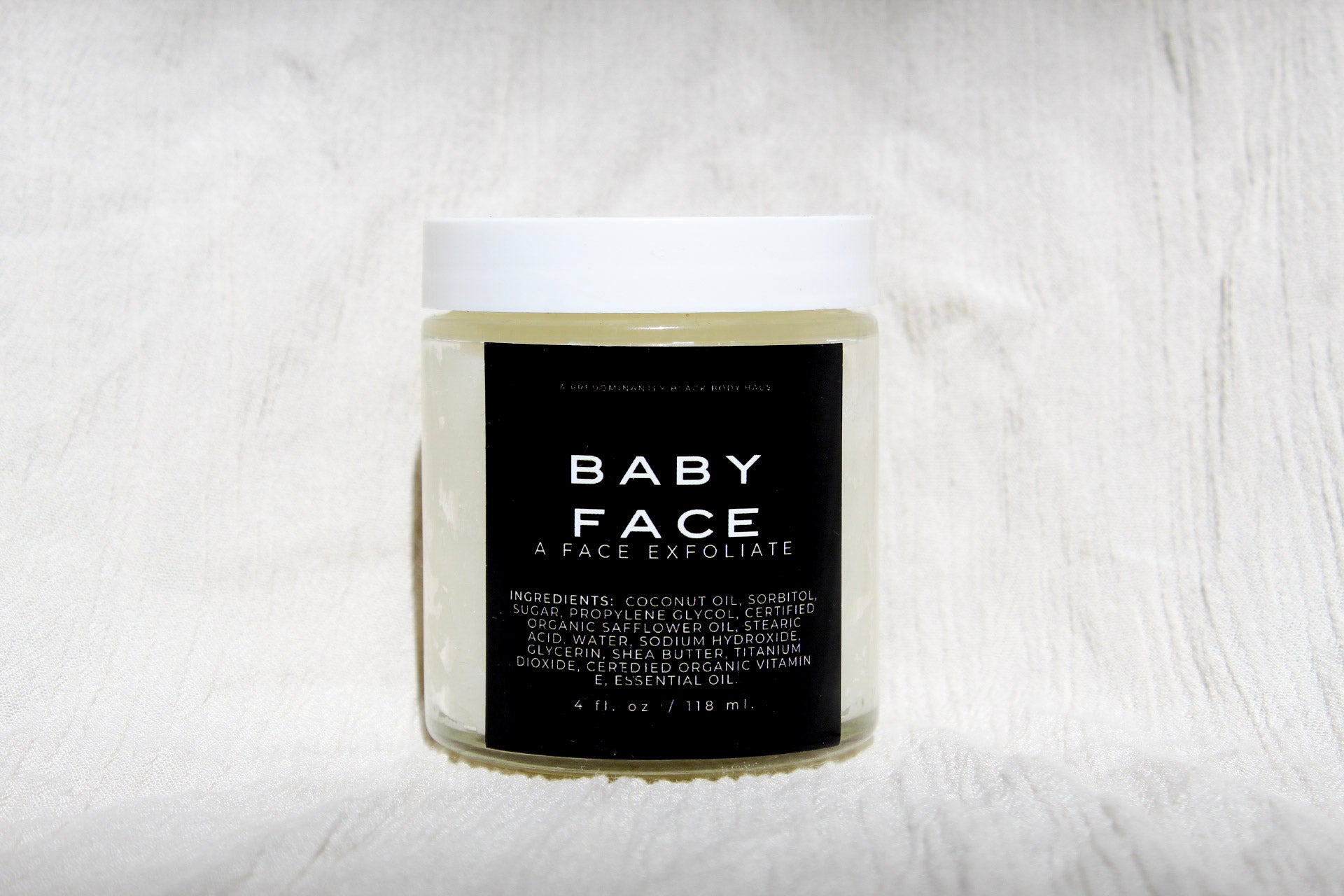 BODY HAUS - BABY FACE, A SHEA BUTTER FACE EXFOLIATING WASH
BABY FACE 
A FACE EXFOLIANT 
USES: Wash / Exfoliate Face as many times as needed
-
ABOUT: If moisturizing after exfoliating your face isn't your thing, Baby Face is the perfect exfoliant for you! With the base of Safflower Oil, Vitamin E, and Shea Butter Soap, this scrub will leave your skin feeling like a newborn baby!
-
SCENT: Chamomile Essential Oil
Chamomile oil best:
Soothes: Comprising powerful anti-inflammatory and calming properties, Chamomile Essential Oil is a wonder ingredient to help soothe your complexion. Whether it's irritation, breakouts, or any other skin concerns, Chamomile Oil is a great natural remedy to calm your skin and reignite your radiance.
Detox: Potent antioxidant elements combined with its ability to flush out toxins and trigger circulation make Chamomile Oil an essential in your skin detox. Ridding your skin and body of these harmful elements can reduce blemishes and hyperpigmentation, providing your complexion with the optimal environment in which to thrive.
-
DIRECTIONS: With wet hands and a wet face, grab the desired amount of BABY FACE with your finger, rub into your hands then apply to the face rub until light lather. Rinse thoroughly. 
-
INGREDIENTS: 
Coconut Oil, Sorbitol, Sugar, Propylene Glycol,
Certified Organic 
Safflower Oil, Stearic Acid, Water, Sodium Hydroxide, Glycerin, Shea Butter, Titanium Dioxide, Certified Organic Vitamin E, Fragrance
 -
SIZE: 4 ounces
BODY HAUS - BABY FACE, A SHEA BUTTER FACE EXFOLIATING WASH
Works as it Should
The scent is light & clean, leaving your skin with the exact same feeling. I do use it as a first step before going over with cleanser in the shower and I don't have the usual dryness that I have after and as someone with oily, combination skin, I was heavily surprised at how well it did not leave me feeling greasy. Highly recommend and it lasts forever. A little goes a long way with this one.