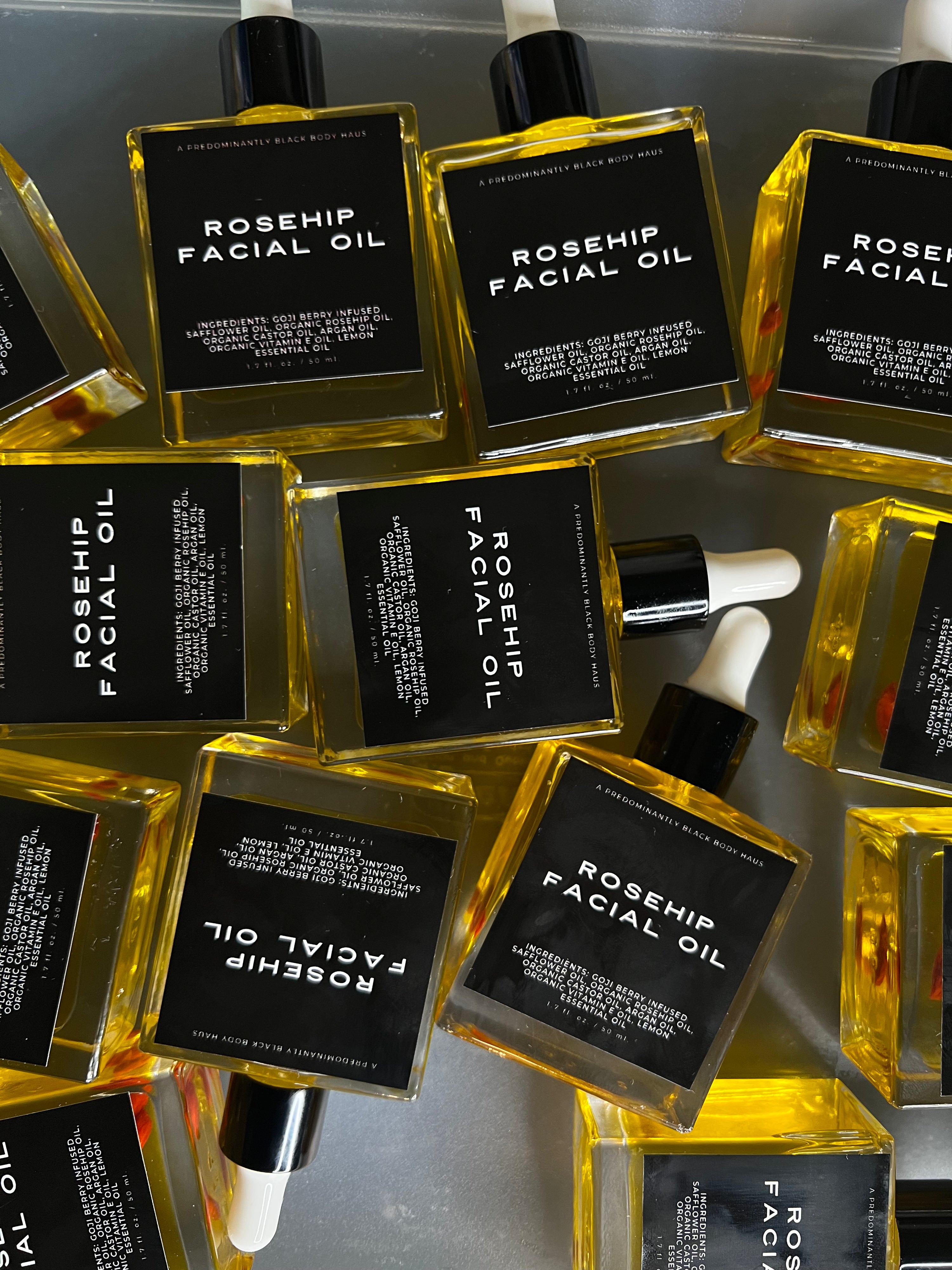 BODY HAUS - ROSEHIP FACIAL OIL
Description
ABOUT
CANDLE CARE
BODY HAUS
ROSEHIP FACIAL OIL
USES: Facial Oil 
TEXTURE: Thick, Best to apply at night after freshly washed face.
SCENT: Lemon Essential Oil. The scent is strong at first but disappears after a few minutes.
ABOUT: Our Rosehip Facial Oil is a topical facial oil made with only the best of the best of oils to help heal, protect, and nourish your skin.
GOJI BERRY INFUSED SAFFLOWER OIL:
Known for its high content of nutrients, amino acids, and carotenoids make this ingredient a superb ingredient for those skin healing & anti-aging skin formulations.
ORGANIC ROSEHIP OIL:
It hydrates
It moisturizes
It helps exfoliate and brighten skin
It helps boost collagen formation
It helps reduce inflammation
It helps protect against sun damage
It helps reduce hyperpigmentation
ORGANIC CASTOR OIL:
Preventing wrinkles. Castor oil contains antioxidants that fight free radicals in your body
Fighting acne. Castor oil has antibacterial properties
Reducing puffiness
Moisturizing
Soothing sunburn
Fighting dry lips
Promoting overall skin health
 ARGAN OIL:
Protects from sun damage
Moisturizes skin
Treats a number of skin conditions
Treats acne
Heals skin infections
Improves wound healing
Soothes atopic dermatitis
Has anti-aging effects
ORGANIC VITAMIN E OIL:
Vitamin E is most commonly known for its benefits for skin health and appearance. It can be applied topically to your face to reduce inflammation and make your skin look younger.  
LEMON ESSENTIAL OIL:
Lemon oil is used for a variety of skin conditions, including acne. When diluted and applied topically, the lemon essential oil can kill bacteria that may get trapped in pores and cause breakouts. It can also clarify your skin, gently exfoliating dead skin cells that so often become trapped in hair follicles and pores.
DIRECTIONS:  Apply to freshly cleaned skin. Place a few drops into the hand and massage into the skin.
INGREDIENTS: Goji Berry Infused Safflower Oil, Organic Rosehip Oil, Organic Castor Oil, Argan Oil, Organic Vitamin E Oil, Lemon Essential Oil
4 Ounce
NO Phthalates
NO Additives
NO Paraffin 
INGREDIENTS: 100% COCO/SOY WAX, COTTON WICK, FRAGRANCE OIL 
 HAND-POURED IN LOS ANGELES IN SMALL BATCHES
Always burn candle within sight.
Keep away from flammables. 
Keep away from children and pets. 
Trim wick to 1/4" before lighting. Best to trim wick each time prior to lighting. 
Keep candle free of any foreign materials including matches and wick trimmings. 
Only burn candle on a level, fire-resistant surface. 
Do not burn candle for more than four hours at a time. 
Stop use when only 1/4" of wax remains.
TEST, TEST, TEST. BEFORE DIVING INTO OUR PRODUCTS
PLEASE BE SURE TO DO A TEST PATCH ON YOUR SKIN TO ENSURE NO REACTIONS OCCUR. ALTHOUGH UNCOMMON, SWITCHING TO NATURAL PRODUCTS CAN CAUSE IRRITATIONS.
BODY HAUS PRODUCTS HAVE NOT BEEN EVALUATED BY THE FOOD AND DRUG ADMINISTRATION. THIS PRODUCT IS NOT INTENDED TO DIAGNOSE, TREAT, CURE OR PREVENT ANY DISEASE.
THE CONSISTENCY OF OUR PRODUCTS MAY CHANGE DUE TO EXTREME HEAT AND OR COLD WEATHER. PB HAS NO CONTROL OVER THE CONDITIONS DURING TRANSIT OR DELIVERY, PLEASE UNDERSTAND THAT WE CANNOT BE RESPONSIBLE FOR MELTED OR FROZEN PRODUCTS.
PRODUCTS MAY APPEAR INCONSISTENT IN COLOR BUT OUR NATURAL PRODUCTS ARE MADE FROM NATURAL INGREDIENTS. OUR HANDMADE PRODUCTS ARE MADE WITH CONSISTENT FORMULAS AND INGREDIENTS.
WATER CHANGES THE CONSISTENCY AND PERFORMANCE OF OUR PRODUCTS PLEASE TRY YOUR BEST NOT TO ADD WATER.
New Holy Grail
I was looking for a facial oil that was all natural and contained both castor oil and rosehip. I scoured the internet for HOURS. This was the ONLY product I could find that met my criteria and the price point was great so I purchased. Shipping took a little less than 3 weeks but OMG, WHEN I TELL YOU THIS OIL IS F*CKING AMAZING! It smells wonderful! It's also super light yet really moisturizing. I was worried the lemon would both my skin but it doesn't at all (nor does it bother my eyes when applying around them). I immediately purchased a second bottle because I was worried if it takes awhile to ship again, I'd run out and I'll never be without this again. The bottle is a good size especially for the price and beautiful packaging. Also customer service has just been absolutely amazing! I'd highly recommend this facial oil and this company!
Love the skin I'm in
Love this Rose Hip face oil. I live in the west where it's dry, dry and dry, my face was peeling especially around my nose. Then I found PB! I use the Turmeric face scrub, apply the rose hip oil let that absorb in my skin before applying a moisturizer or foundation and voi·la at age 63 my skin is doing amazing!!