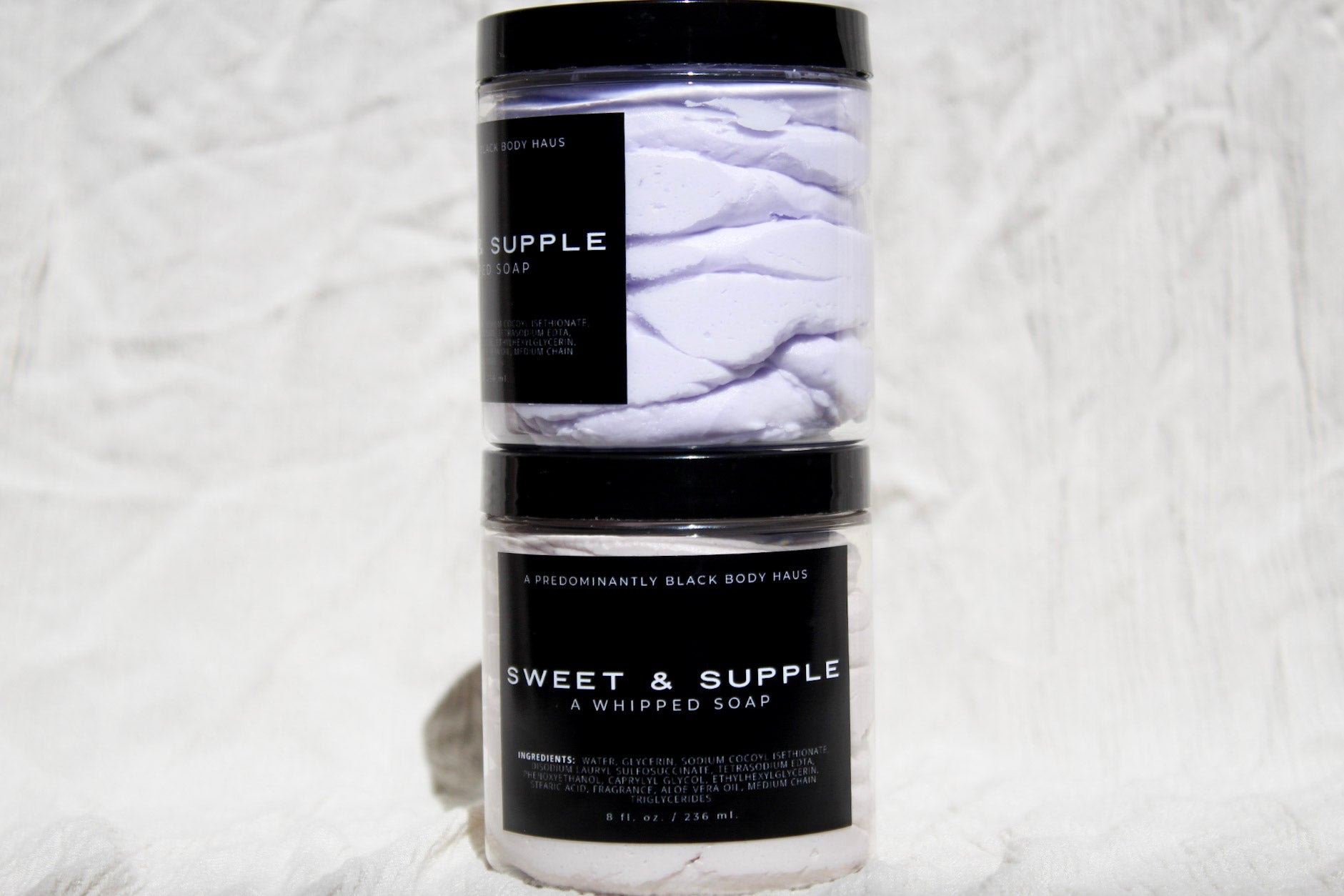 BODY HAUS - SWEET & SUPPLE, A WHIPPED BODY SOAP
SWEET & SUPPLE
*8 OUNCE SHOWN IN PHOTO. 4 OUNCES IS SMALLER WITH A CLEAR LABEL
USES: Body Wash 

ABOUT: Our Sweet & Supple Whipped Bath soap is a soft whipped bath soap with a few jojoba seeds for light exfoliation. Sweet and Supple is made of skin-loving soapy ingredients sure to enhance your bathing experience!
DIRECTIONS:  Apply to the body to cleanse until lather. Rinse thoroughly
INGREDIENTS: Water, Glycerin, Sodium Cocoyl Isethionate, Disodium Lauryl Sulfosuccinate, Tetrasodium EDTA, Phenoxyethanol, Caprylyl Glycol, Ethylhexylglycerin, Stearic Acid, Fragrance, Aloe Vera Oil, Medium Chain Triglycerides
BODY HAUS - SWEET & SUPPLE, A WHIPPED BODY SOAP
I can not go without!
Iv'e never written a review before but felt like I had to because I can not explain how much I am blown away by this fluffy soap I don't think I could ever go back to regular soap. The experience is simply luxurious, my skin is left feeling soft yet beautifully cleansed without any stripping of my skin barrier. I. AM. OBSESSED.
I think Ive tried almost all of them and they are all amazing but oud is my favorite.
This smells so good and feels absolutely luxurious. Love it! Will purchase more for sure.
Excellence
This is soap is luxury! It glides on with ease out of the container. It leaves the skin extremely soft! I have the scent in vanilla dew and it is perfect! Not too sweet or overpowering, just right! I love it so much that I'm happy to see there is a whipped butter!
You're Thinking About Buying & You Must
I am very much attached to castile, liquid soap. Never even heard of whipped soap. Hate the bar stuff. I got this, in Florida Water, I have been in absolute bliss. I usually will use this after my regular shower and spread it by hand. The scent is potent without being overwhelming AND it does not mess with my sensitive skin. It also just leaves my skin feeling soft and refreshed after I wash it off. If it were not for the fact I have oily skin and need something stripping, I would just use this but the combo makes it so much better. I alternate my days of use with the silk body wash (gonna talk about it over there) and I love both, but the way this just rubs into the body and leaves my shower smelling, can't be beat.
Oh honey!!! You need this!
This is quality. The best Whipped soap I've used. The texture, lather and scent are divine. I was worried that the soap would crumble when I took it out of the container. But it didn't. It felt so soft on my skin. It has a good lather and left my skin moisturized.
This Whipped soap will continue to be in my rotation of bath products